LATEST NEWS
Attention Teamster Local 200 Brothers and Sisters
Promotions Unlimited Plant Closing
The recent closing of Promotions Unlimited/ Roosevelt Capital LLC has been a strain on our close to 30 Local 200 Teamster brothers and sisters there as they attempt to sift through the many details surrounding it.
There have been news stories and interviews alike in outrage to the actions that surround the closing, and this office is in lock step with that outrage.
There are many scenarios to such a closing, and many details to be sure, but pulling monies already forwarded to workers accounts and then reversed and taken out of those same accounts is in my opinion a dirty business practice whether it is directed by the company, the financial institute, or whomever. This payroll money is money owed for services rendered by the workers to their employer. No bankruptcy law, if that is what is driving this action, should take a front seat to this commitment to and by these workers.
As bankruptcies are a very complicated process please be sure that this Local Union will keep its members informed of that process moving forward as it affects them.
As always please keep your contact information up to date with your Local Union.
Thomas L. Millonzi
Secretary Treasurer
General Teamsters Local Union No. 200
Money taken from employee accounts after company closes
MOUNT PLEASANT, Wis. - Longtime employees at Promotions Unlimited not only lost their jobs last week, but now many say their final paychecks were taken from their bank accounts.An attorney for the company tells TODAY'S TMJ4 the payroll company had fronted the final paychecks, but when Franklin Capital didn't fund Promotions Unlimited as expected, the payroll company, Paylocity, reversed the direct deposits.Workers say the company started letting people go the end of December, and told those who were left they were out of a job and closing the doors January 27.Debbie Mazzie worked as a tracing specialist for the Mount Pleasant company for 26 years. She was let go Jan. 13, and at that time received a letter that said she would get paid for the vacation days she earned. But Thursday her check was reversed and the transaction is pending."Woke up this morning, went online, went on my bank, and they had taken out $954.72," Mazzie said.Terry York spent 24 years with the company, most recently in sales. She was out sick the day she found out the company was closing, and learned the news from coworkers via text. She said her former employer is now trying to take money from her savings and checking accounts."I'm angry. I busted every part of me to do everything I possibly could, and you lied to me straight to my face and said that my job was safe, that I have nothing to worry about, and here I am," York said.Fourteen-year employee Michelle Humburg worked in sales and customer service at Promotions Unlimited."At first I was a little heartbroken actually. I felt for them...then I got mad," Humburg said.Karen Puder was the warehouse supervisor and had worked there for 11 years."You kick us to the curb, and then you kick us in the stomach by trying to take our pay back. You don't put money in our 401(k), you didn't pay our health insurance, we have nothing," Puder said.Teamsters 200 represents some of the employees, but plans to help all employees file wage complaints with the Wisconsin Department of Workforce Development. State law requires companies with 50 or more employees provide 60 days notice before shutting down. Promotions Unlimited did not do that.
Promotions Unlimited officially goes by the name Roosevelt Capital LLC.
CLICK HERE FOR VIDEO
LAKE TWP. FAMILY PLEDGES
$1 MILLION FOR TREATMENT CENTER
During the IBT Convention in late June of 2016, many topics were addressed form the podium, but one stood out more than any other. The story of a Teamster family, the Bornstein's, and their son's death impacted the attendees of the Convention in such a fashion, that Teamsters Locals, Joint Councils, Teamster Retiree Groups and individual Teamsters stood from the Convention Floor and pledged over $1 million dollars collectively to band together on a cause facing everyday families, including Teamster families.
Wisconsin Teamsters JC39 and each Local of the State of Wisconsin pledged donations, as long with the Wisconsin Committee to protect Pensions, donated to this cause to help those in need. Please take a moment to read the article attached
CLICK HERE FOR ENTIRE ARTICLE
SAVE THE DATE
SATURDAY AUGUST 26, 2017
TEAMSTERS LOCAL 200
SCHOLARSHIP GOLF OUTING
FEBRUARY IS BLACK HISTORY MONTH
February is
#BlackHistoryMonth
!
Civil rights has long been a priority for the
Teamsters
. The union called for "no color line" in as early as 1906. Black members made up half of the executive board at the first New Orleans local in 1903 and black women helped establish one of the first "color free" contracts in the country in 1917 as Teamsters negotiated equal pay for black and white laundry women
. That foundation of equality led black members to become strong advocates for civil rights and other social justice causes through the years.

General President James R. Hoffa was strongly opposed to segregation of any kind and chose to forfeit prospective members rather than abandon the principles of the union. At one point in the 1950s, he and Vice President Harold Gibbons traveled to New Orleans to lead an organizing campaign at a chemical plant but were stonewalled by white workers demanding a separate local for black workers. Hoffa refused, knowing they would lose the election because of the decision. Hoffa was angry about the loss but felt the union was better off without such racist members. "We don't need 'em," he said. "Their way is not the Teamster way."

In the picture above, Teamsters Local 810 members join the March on Washington in 1963.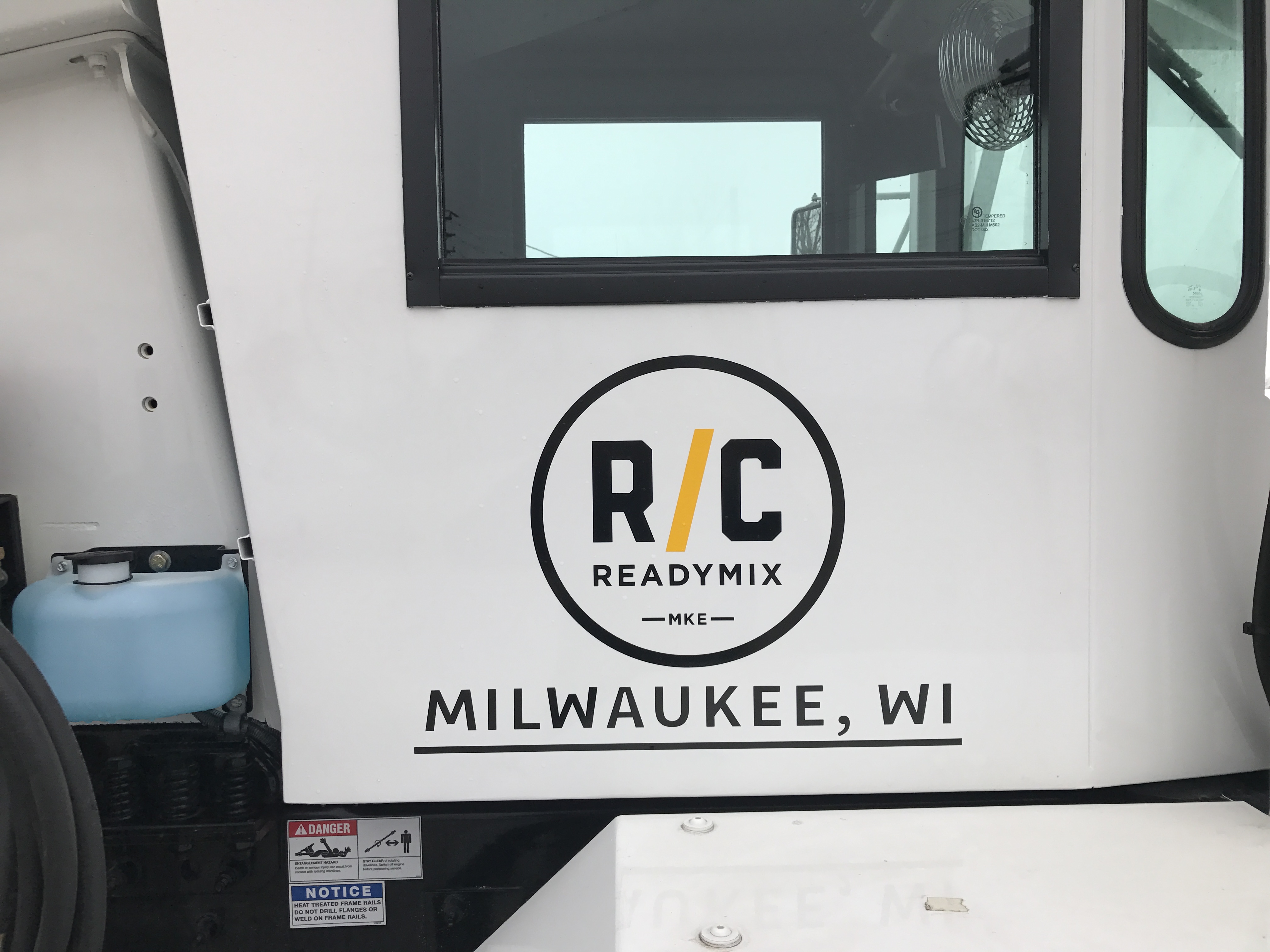 Teamsters Local 200 Welcomes Another Union Ready Mix Supplier to the Milwaukee Construction Market
On Monday January 23rd ,Teamsters Local 200 welcomes another Union ready mix supplier to the Milwaukee construction market. Their name is RivCrete Ready Mix and they will employ (31) Teamster Local 200 members from the start of operations. Their ready mix plant is located at 2751 South Chase Avenue in Milwaukee. The owners of RivCrete Ready Mix and their employees bring many years of construction experience to this new company and the Milwaukee market. Teamsters Local 200 looks forward to a long relationship with this new partnership with RivCrete Ready Mix and their employees.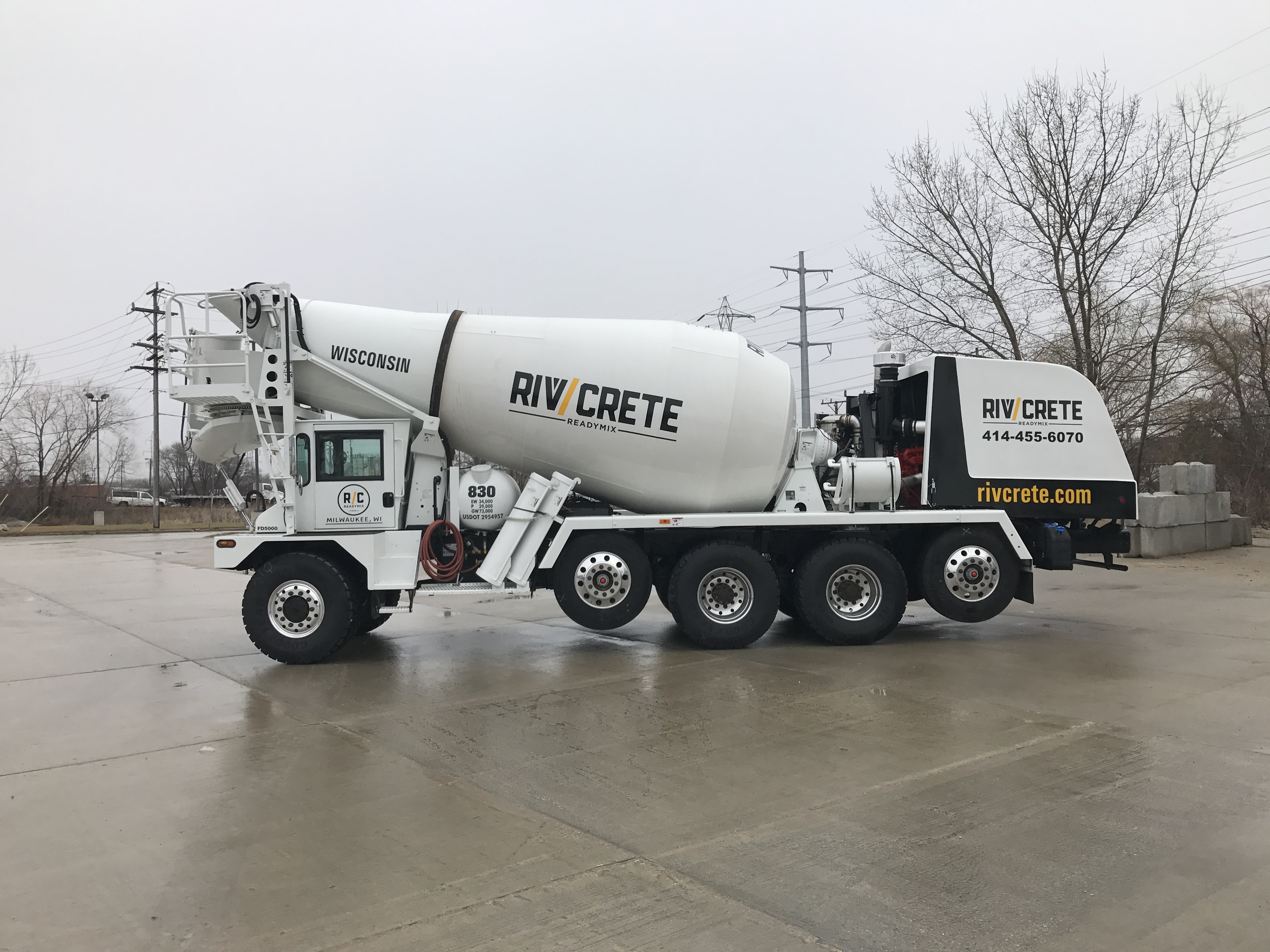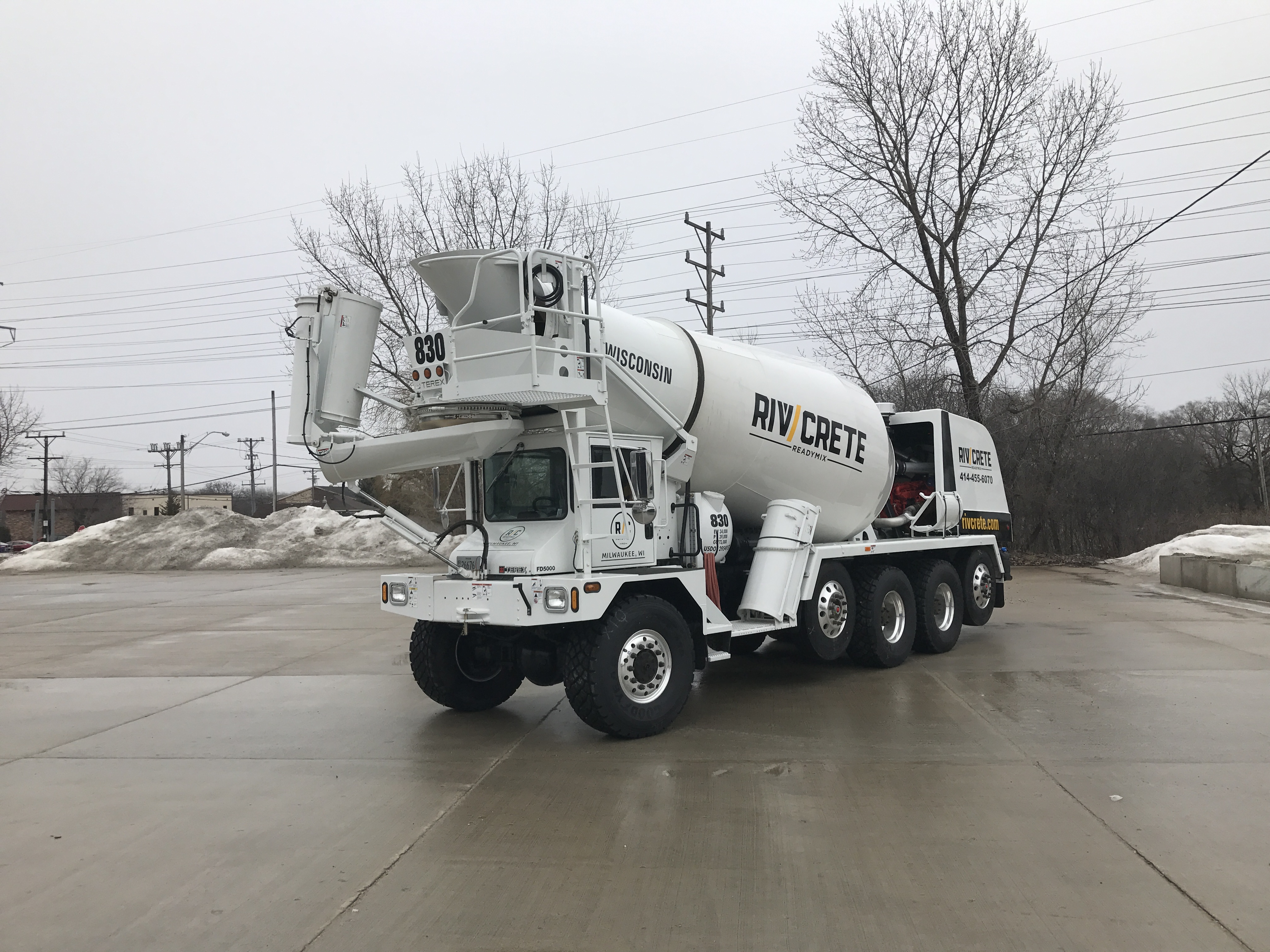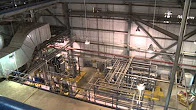 CLICK HERE FOR A SHORT VIDEO -
WISCONSIN PROJECT LABOR AGREEMENT
For decades, the Local Union has worked together with Organized Labor, Building Trades Councils, Developers and Employers to bring economic development to our communities with a partnership process. Project Labor Agreements are the cornerstone of the foundation for many of these projects. Many projects depend on the efficiencies of a negotiated Project Labor Agreements as to budgets, providing skilled trades workers and the timeline to a completion on schedule and maintaining or achieving under budget results.
Please take the opportunity to attend next Tuesdays Hearing's in Madison, Wisconsin to use your voice against the ban on PLA's.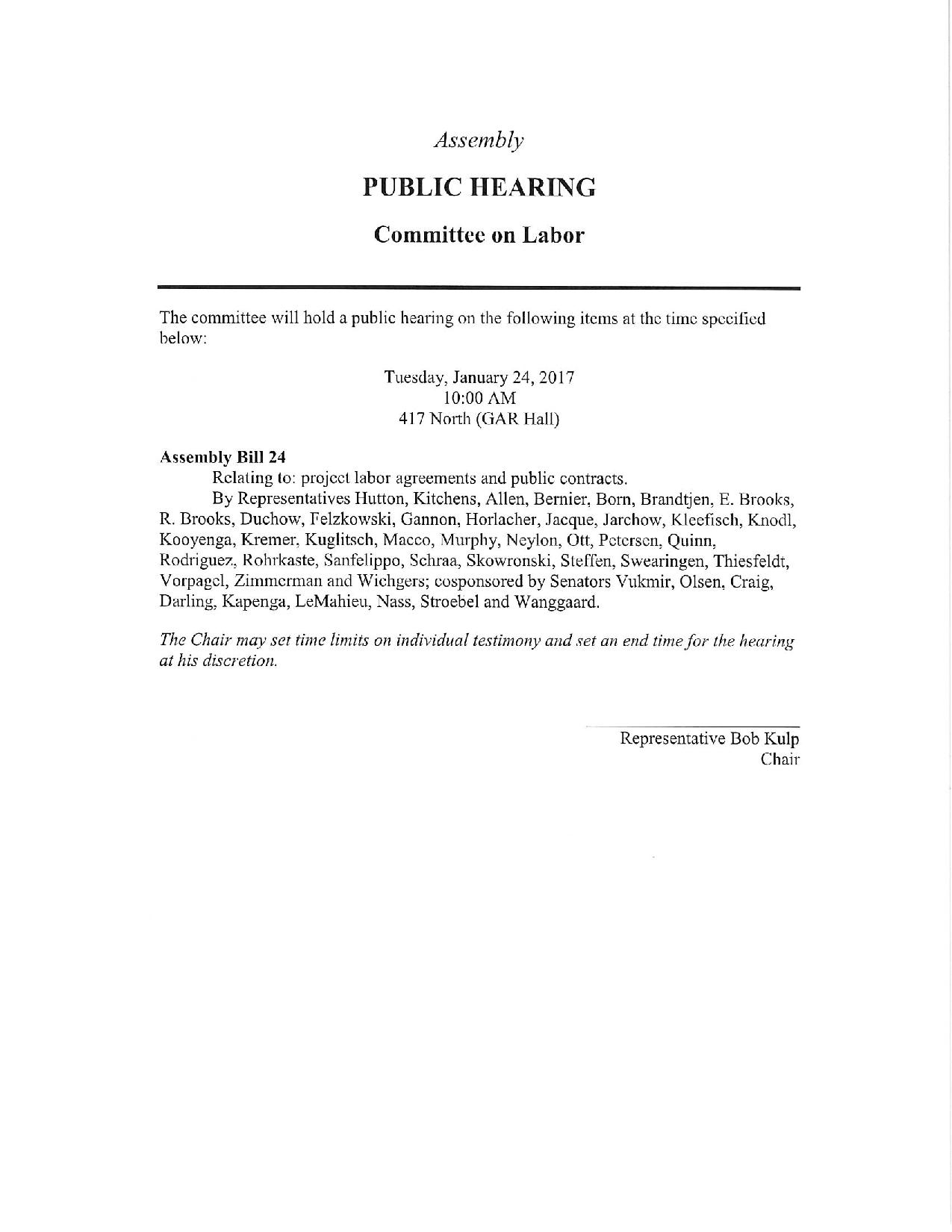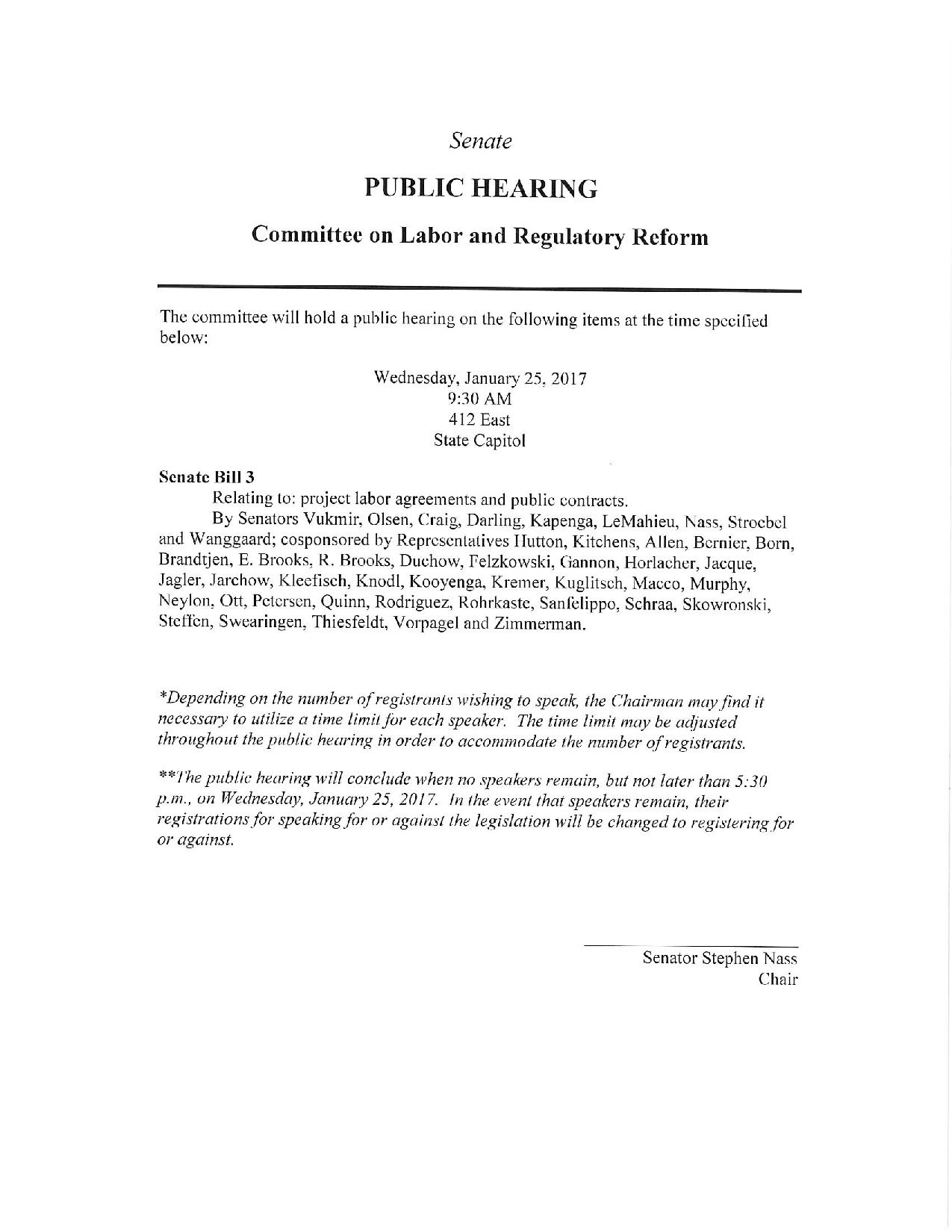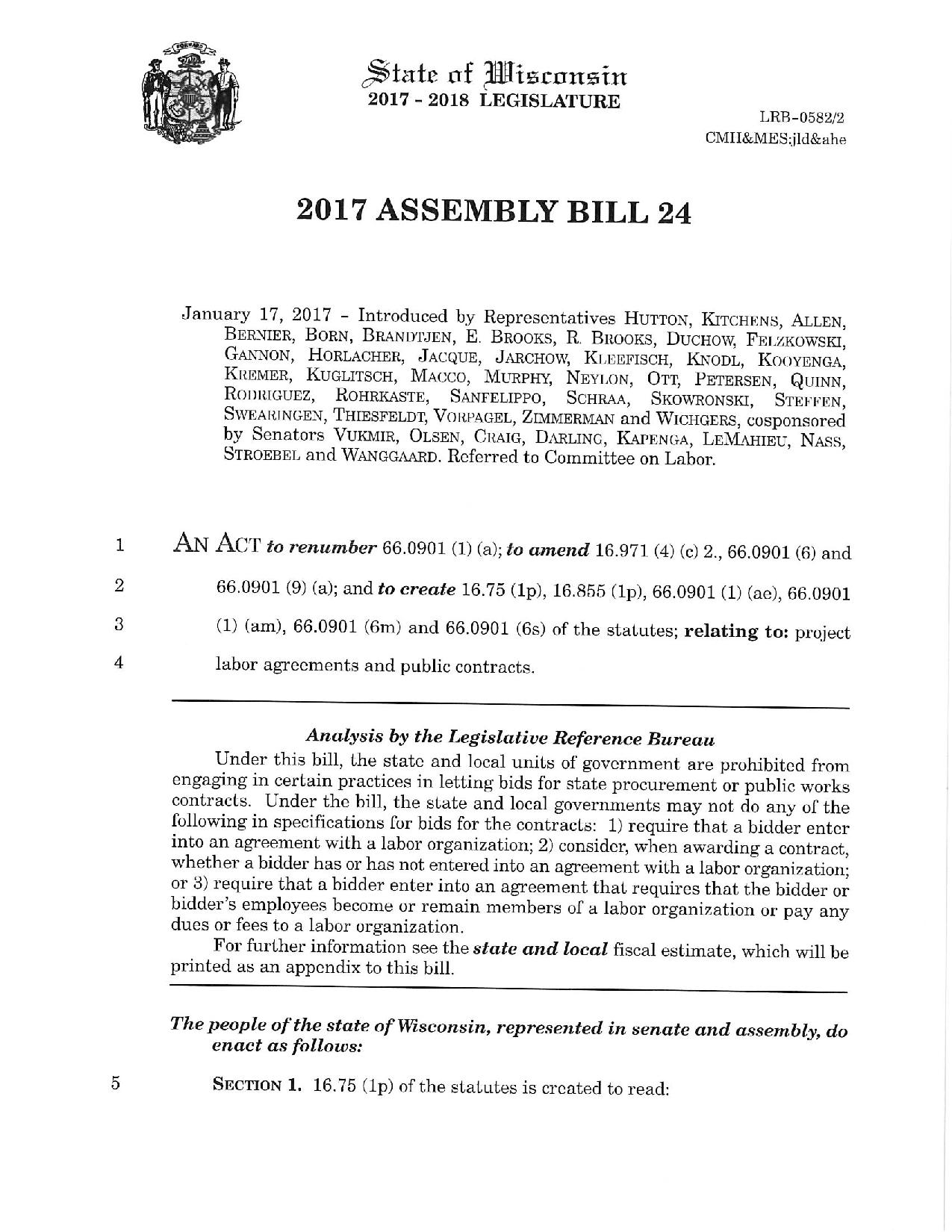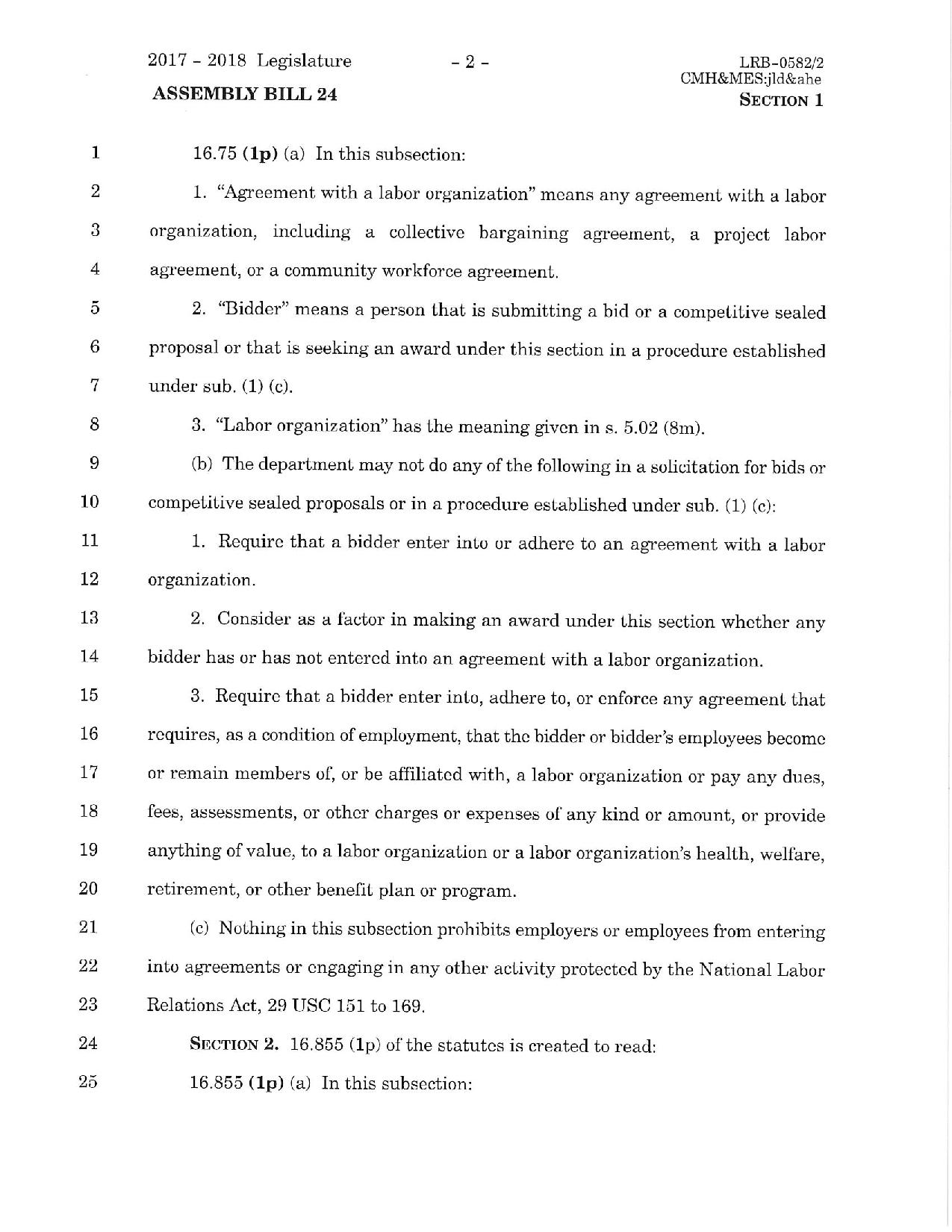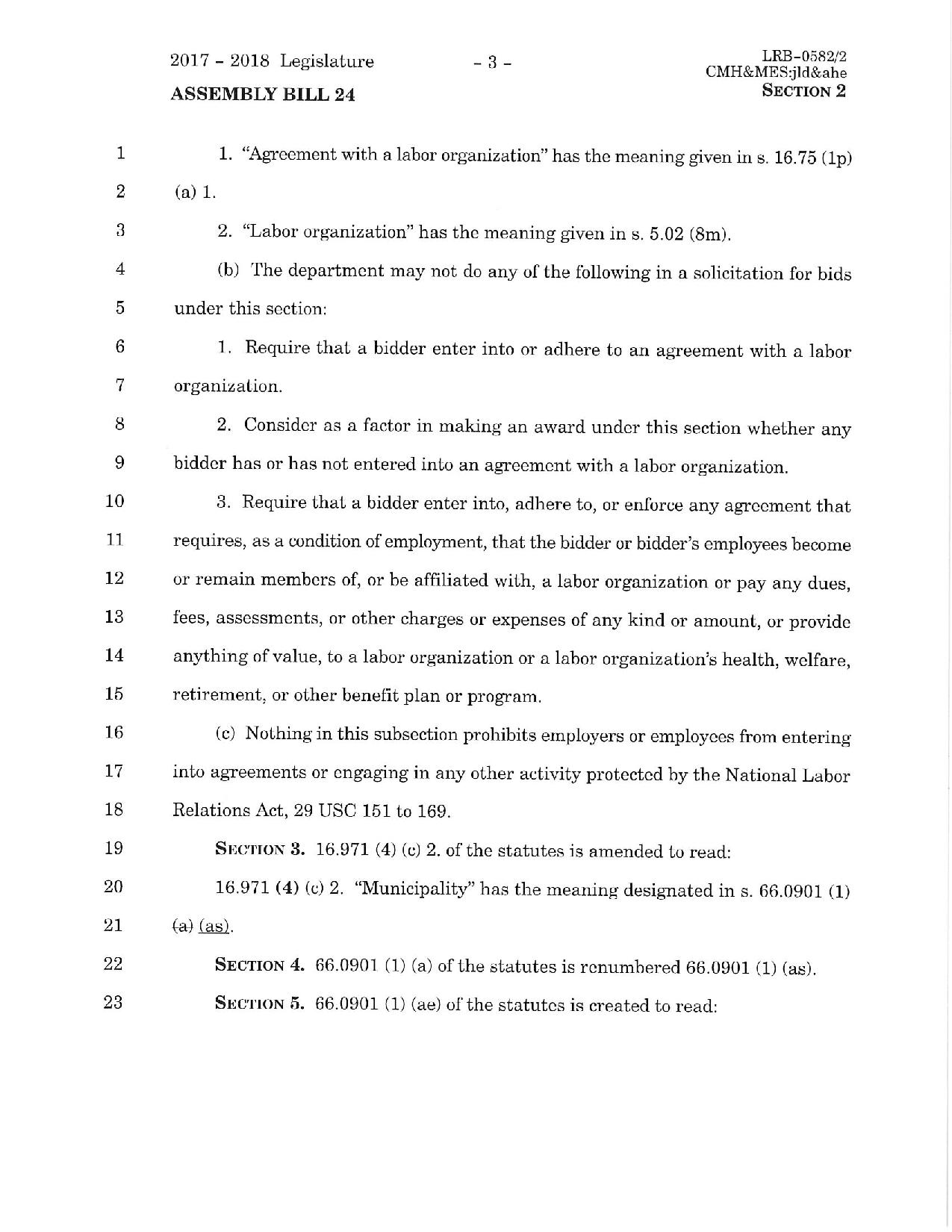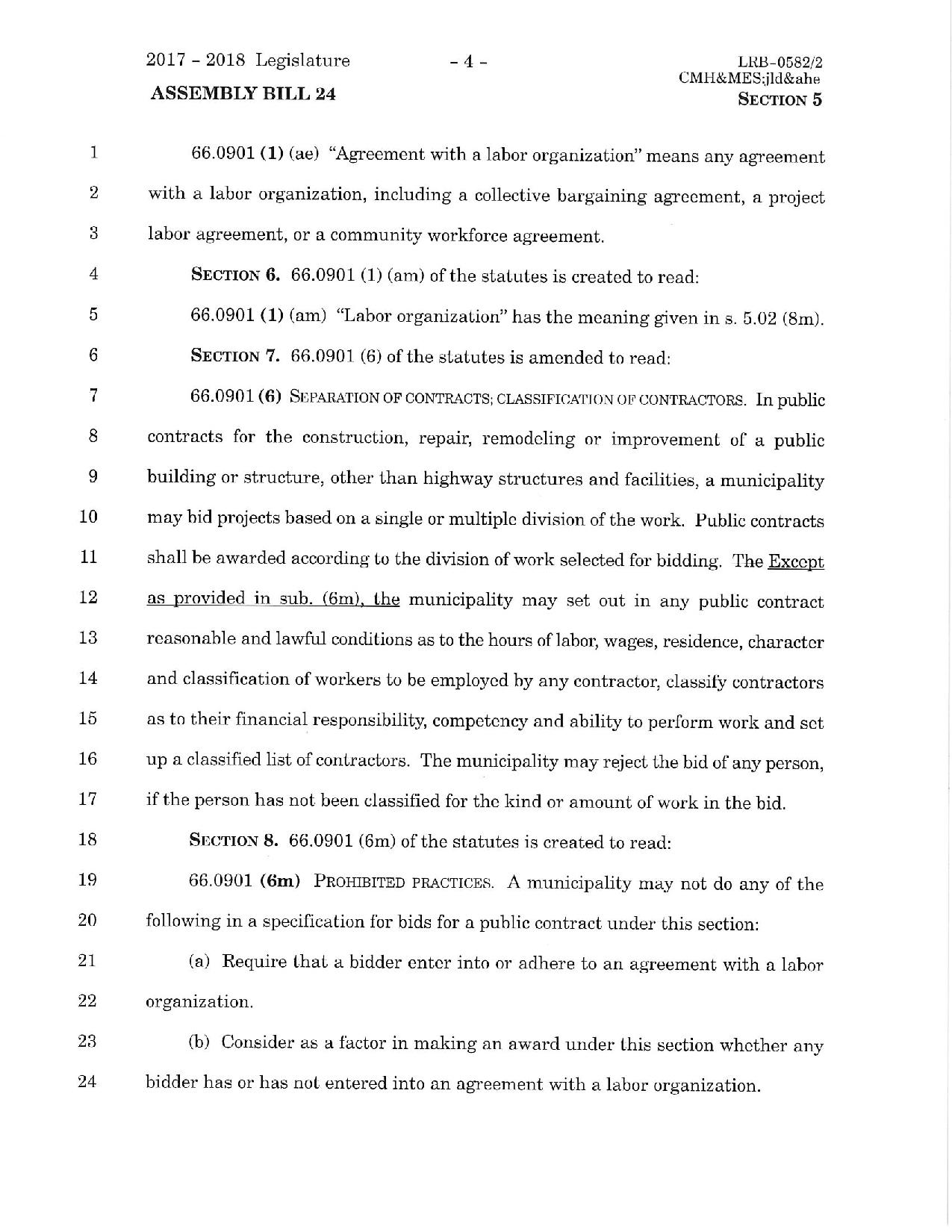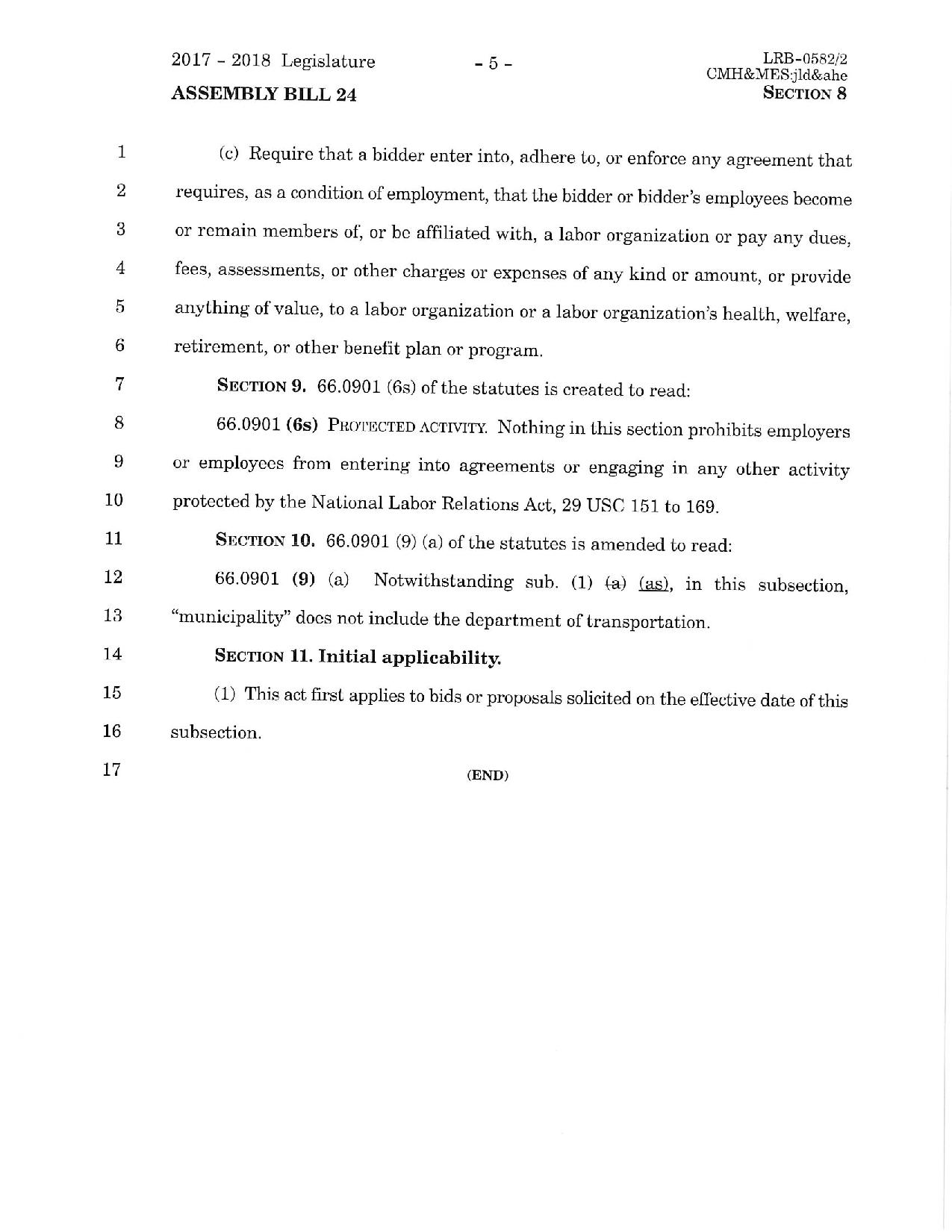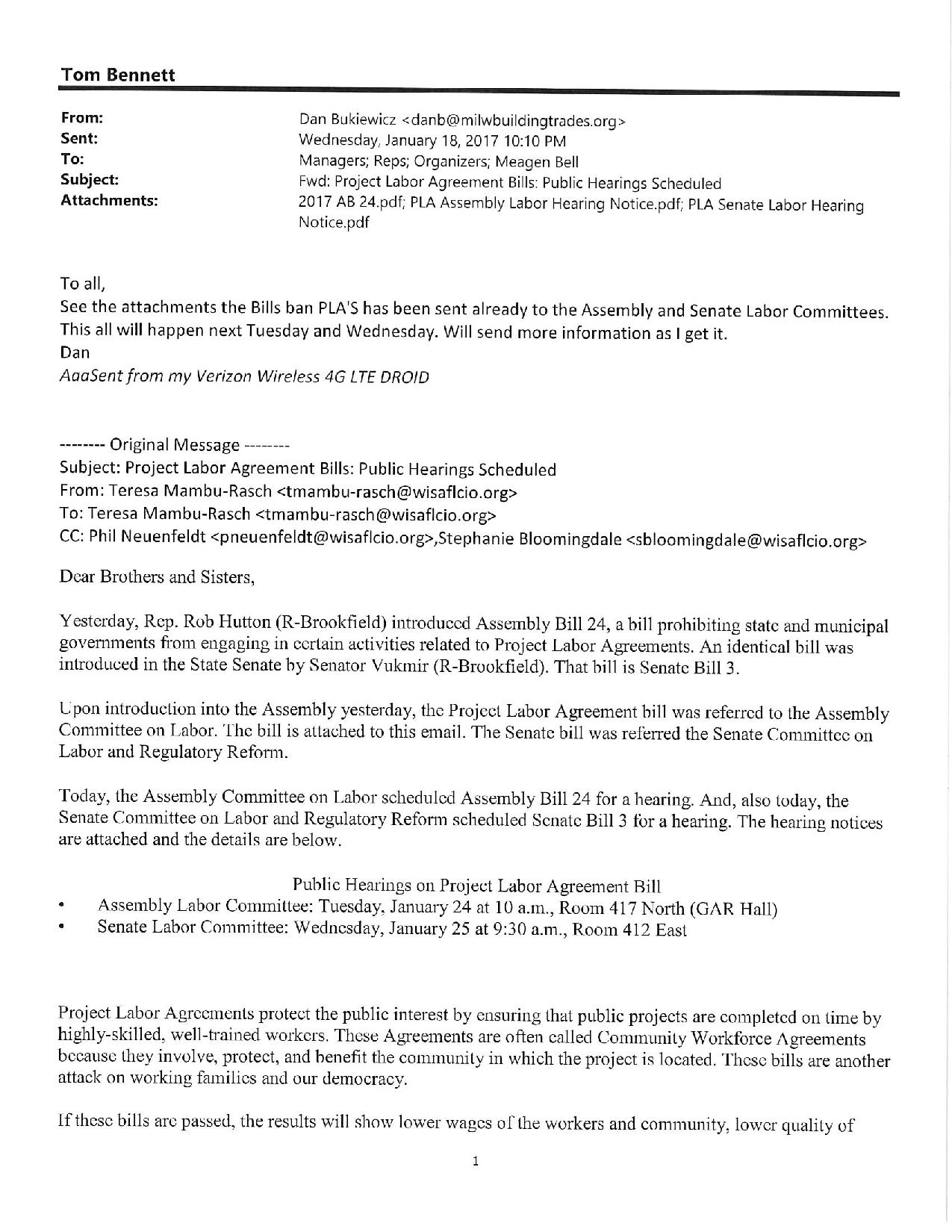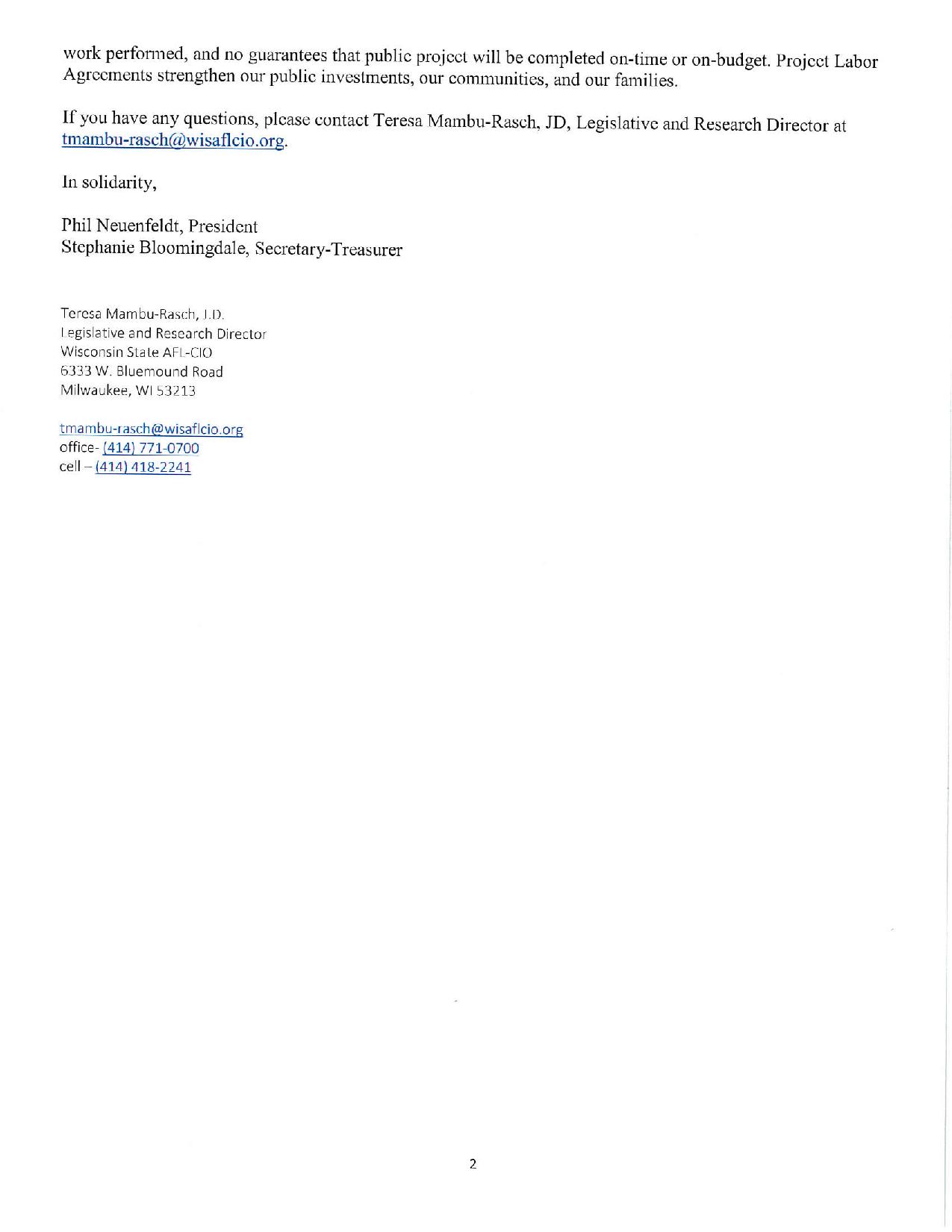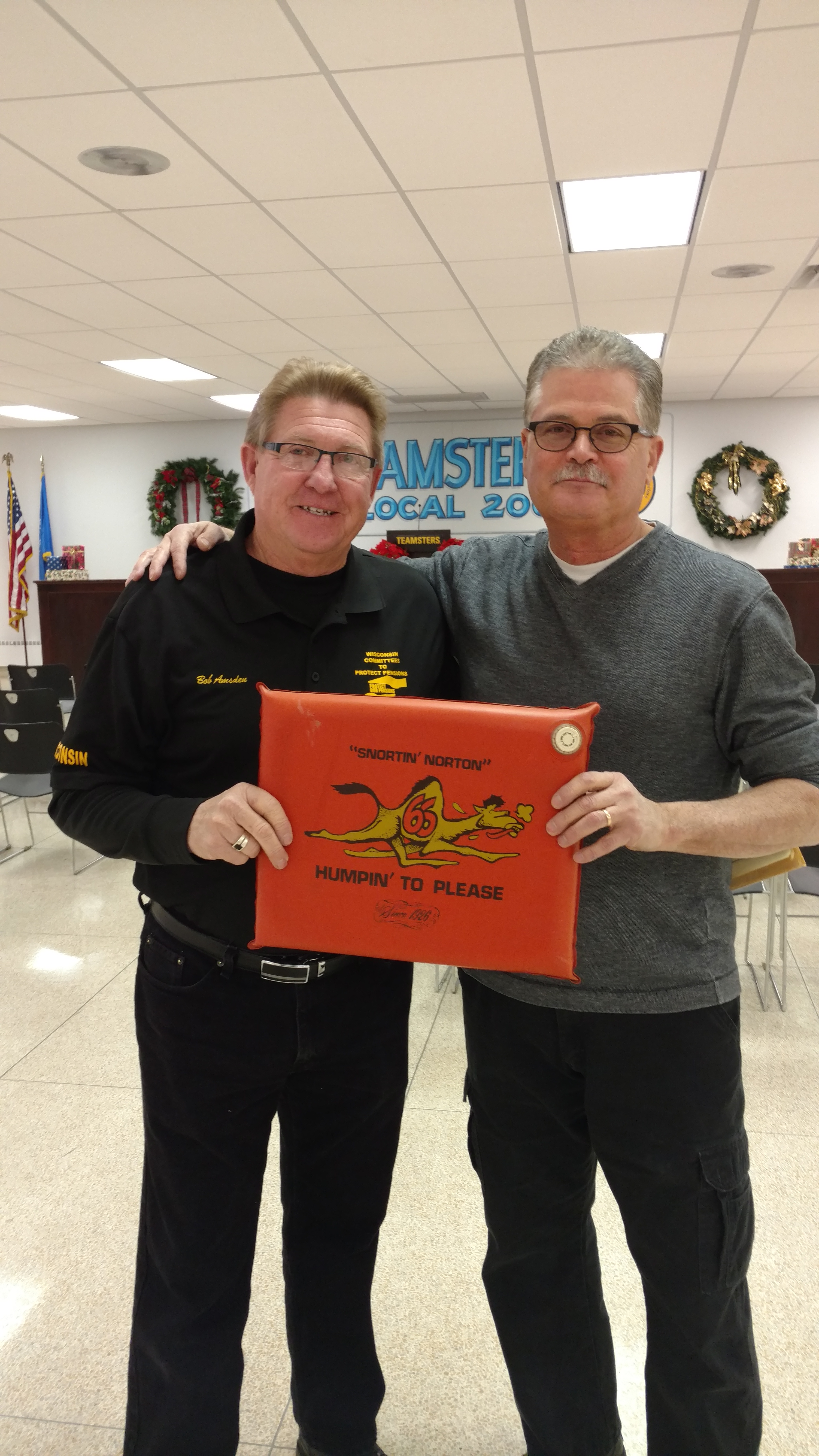 Retiree Bob Amsden of General Teamsters Local 200 presents Secretary Treasurer Tom Millonzi a historical item of transportation memorabilia that will be proudly displayed at the Local Union. Brother Amsden, who has been very committed through his efforts for the active and retired Teamster Brothers and Sisters related to protecting of Pension Benefits, is a 2nd generation Teamster within the Freight Industry.
The Local thanks Bob for the donation and for his continuing efforts with the Pension Committees
Attention sons and daughters of Teamsters (including the GCC, BMWED and BLET), the 2017 year applications for scholarships from the James R. Hoffa Memorial Scholarship Fund are now available. Please click here:
www.jrhmsf.org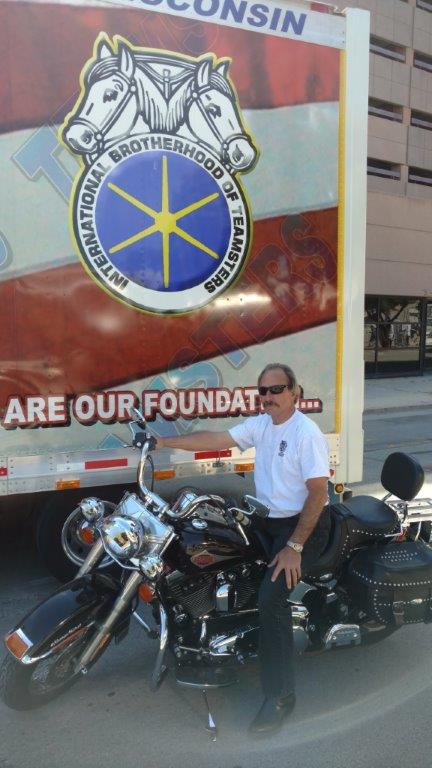 Teamsters in Mourning
"To all, it is with the heaviest of heart that I convey that Teamsters Local 200 Business Agent Mike Gurich has passed," said
Local 200 Secretary Treasurer Tom Millonzi.

Mike was with the Local as an agent representing Teamsters for over 10 years. Before that as a Steward at Central Redi-Mix.
He was a Teamster for over 32 years.
" Mike as well represented all Wisconsin Teamsters as the Construction Director for the State Teamsters Joint Council 39, along with his position at Local 200," added Millonzi.
"Mike was not only a colleague of everyone at the local but a very dear friend that we will all deeply miss. Please keep his family in your prayers.

As details become available they will be forwarded
STEWARDS WORKSHOP
PRESENTED BY
SOLDON LAW FIRM
On Saturday, October 29, 2016, Local 200 held a Stewards Workshop that opened with a introduction of everyone in attendance and then into a presentation by Business Agent Darrick Jordan on the importance of the proper completion of a Grievance Form and the associated documents needed to process that Grievance. Business Agent Jordan focused on the key portions of the Grievance Form and expressed the need for a proper and timely submission to the Local Union.
After Darrick's presentation, Scott Soldon of the Soldon Law Firm took control of the event with a number of interactive group discussions on key issues facing members in the workplace. As the training involved actually situations, Kyle McCoy, a partner in the Soldon Law Firm, working with Scott Soldon role played out a number of events by asking for volunteers from the Stewards group. Local 200 thanks those that participated in the workshop sessions.
During the working lunch, Business Agent Darrick Jordan discussed the Union Application and its process, which includes proper completion for processing at the Local Union.
To close the event, Secretary Treasurer Tom Millonzi and President Tom Bennett thanked all for the attendance and work for the membership as Union Stewards.
MILWAUKEE BUILDING TRADES COUNCIL HONORS MIKE GURICH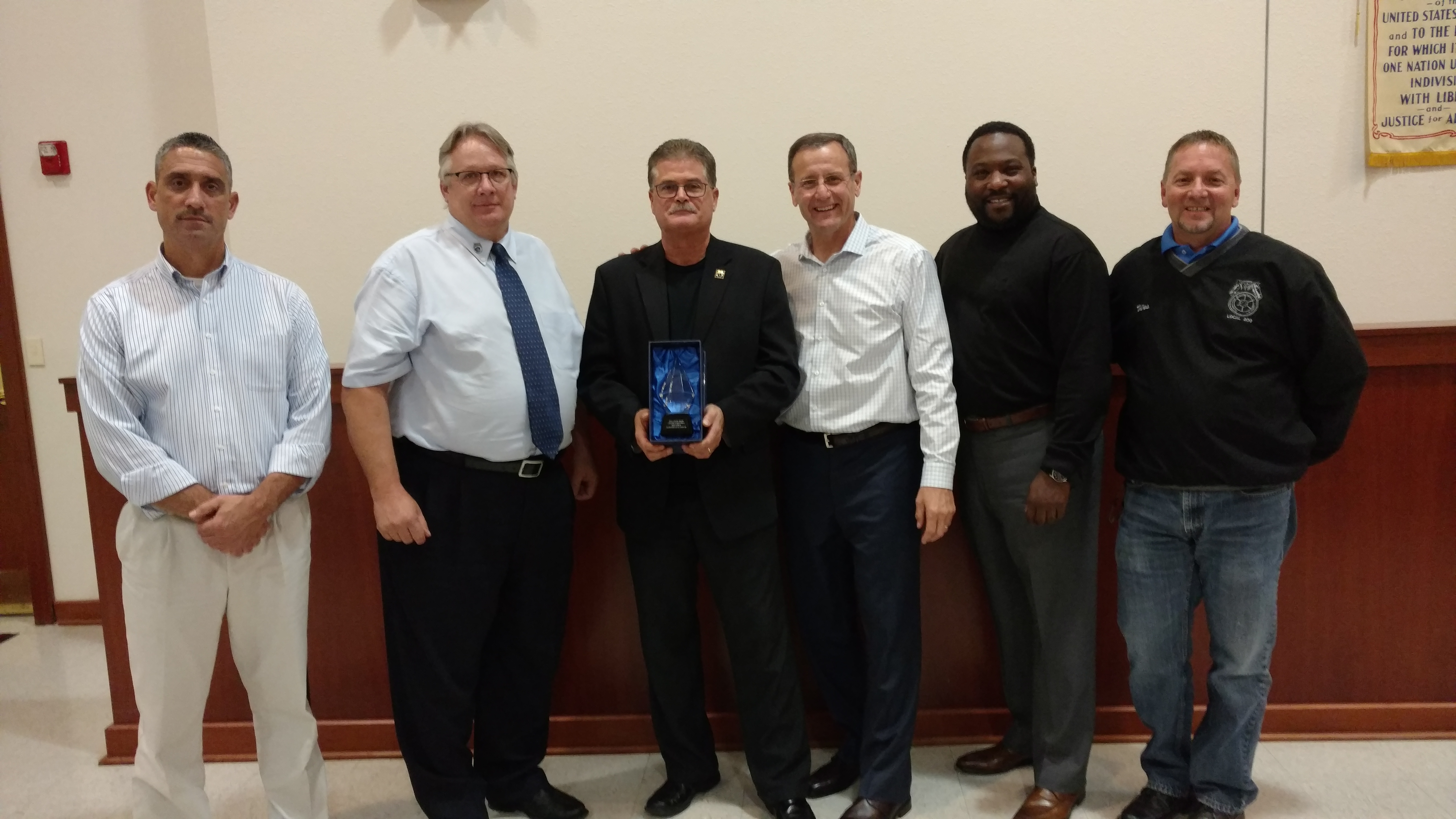 Thursday night at the Carpenters Union hall
the third annual
Lyle Balistreri Outstanding Recognition (L.A.B.O.R.) Awards event was held.
At the ceremony our own Local 200 Business Representative Mike Gurich
was honored with one of the
L.A.B.O.R. Lifetime Achievement Awards.
This award is given each year to someone who has truly dedicated his life to serving the working men of women of organized labor as well as all working men and women in the community.
Mike was unable to attend the event so accepting the award in his name were six of his fellow Teamsters.
Pictured left to right:
Local 200 Business Representative Jim Seelow, Local 200 President Tom Bennett, Local 200 Secretary Treasurer Tom Millonzi, Local 200 Business Rep Tom Benvenuto, Local 200 Business Rep Darrick Jordan and Local 200 Business Rep Wes Gable.
From all Teamsters to you Mike,
Congratulations!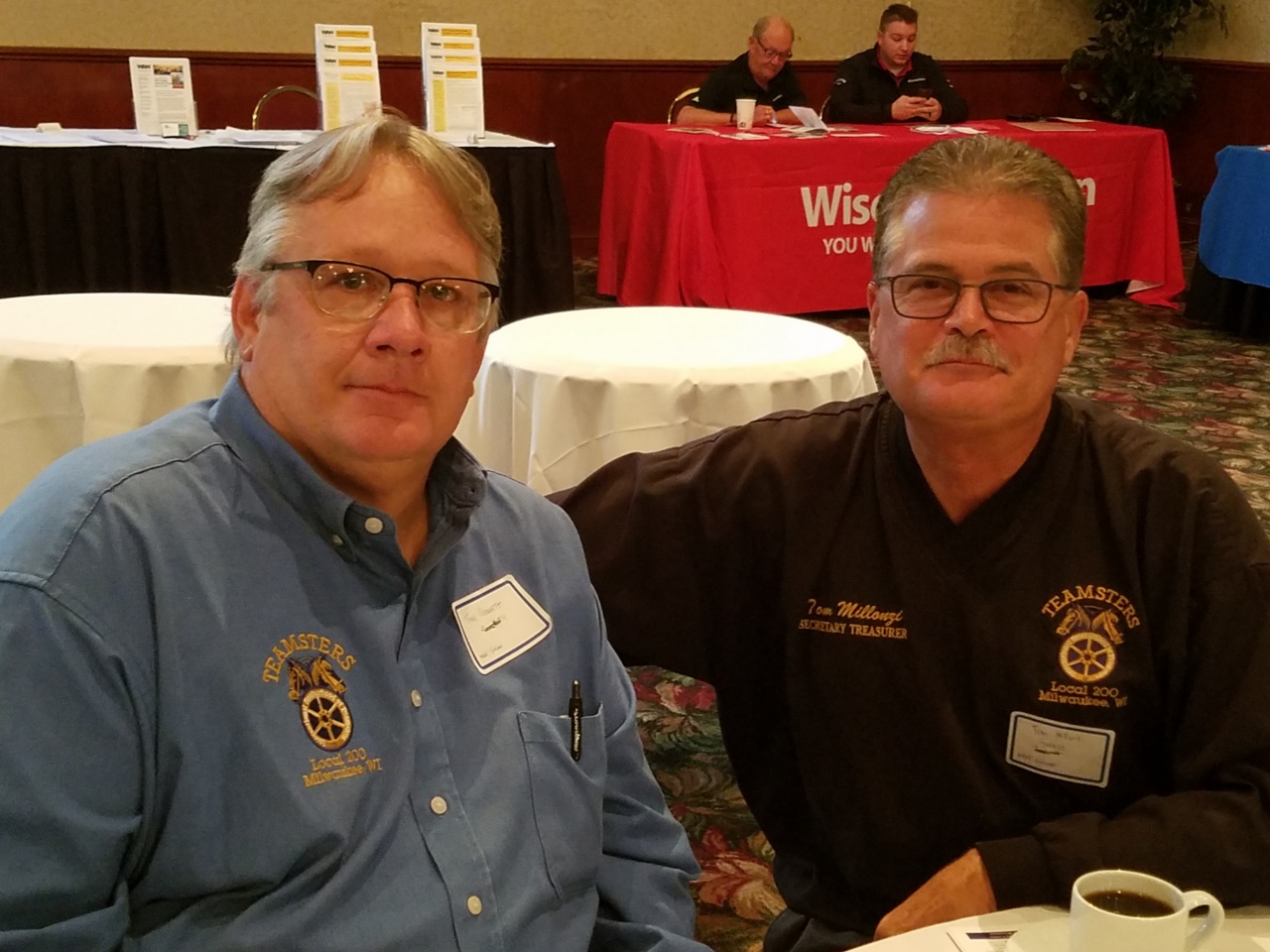 Attending the Wisconsin Alliance for Retired Americans Power Lunch event today at the Italian Community Center. Also in attendence w Tom and Tom, Business Representative Darrick Jordan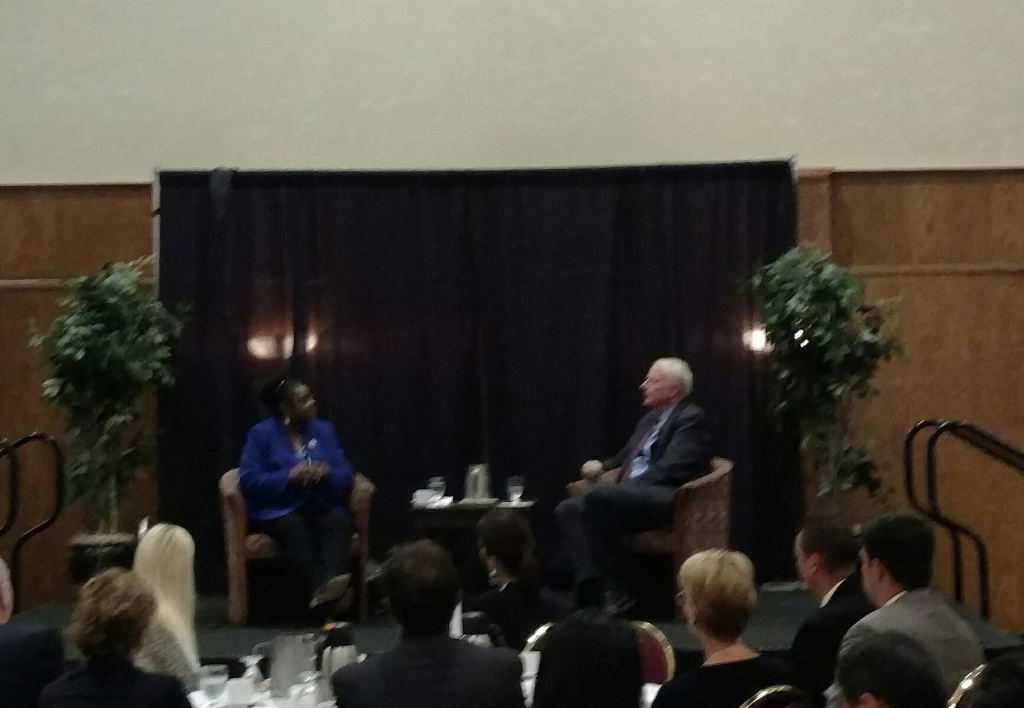 Congresswoman Gwen Moore and Milwaukee Mayor Tom Barrett this morning at the Mayor's Club event
Local 200 Secretary Treasurer Tom Millonzi
at an event this morning with
City of Milwaukee Mayor Tom Barrett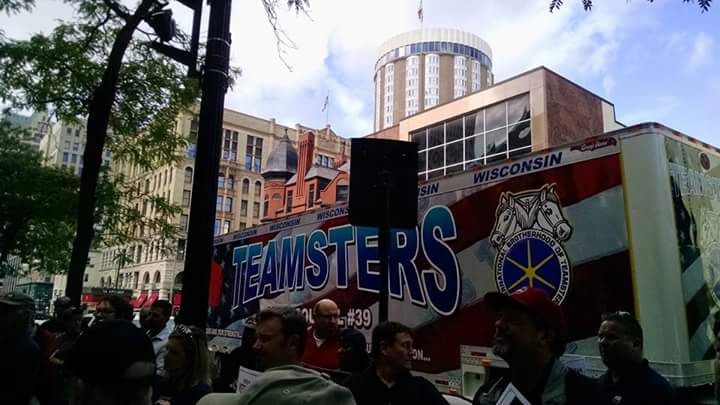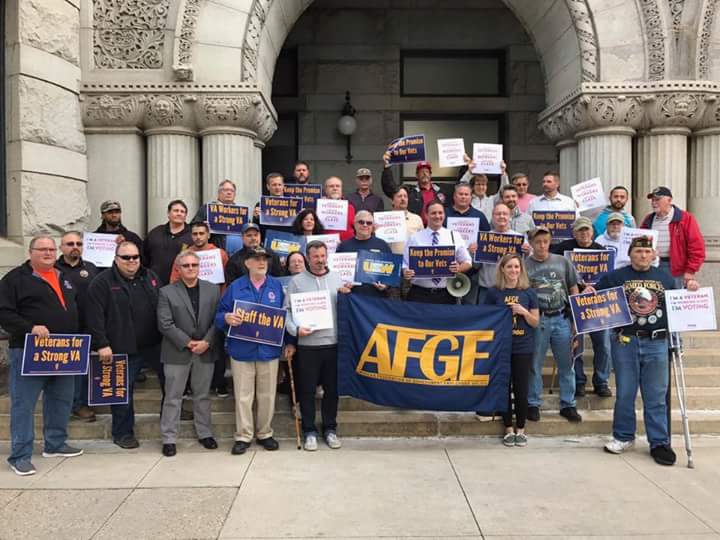 On Monday, October 3rd, 2016, Teamsters Local 200 stood in Solidarity with the Brothers and Sisters of Organized Labor at the Federal Courthouse in Milwaukee to support full funding and staffing for our VA Hospitals and the Veterans that use these facilities. The message of standing strong on the position of not outsourcing or privatization of these VA locations was openly expressed and will continue to be expressed. These workers that provide a high level care need our support, such as the Brothers and Sisters of the American Federation of Government Employees. Veterans should be priority, as they made our security their priority.
Our Brothers and Sisters of the IBT Building Material and Construction Trade Division have been extremely busy the last couple of years within the jurisdiction of Local 200 and there seems to be no end in sight. From day work to night work, from road work to vertical building, from new single family homes to 30 plus story office towers and to a new sports complex that will be above the rest, our Local and its membership are proud to be part of Milwaukee's history.
WISCONSIN SPECIAL OLYMPICS EVENT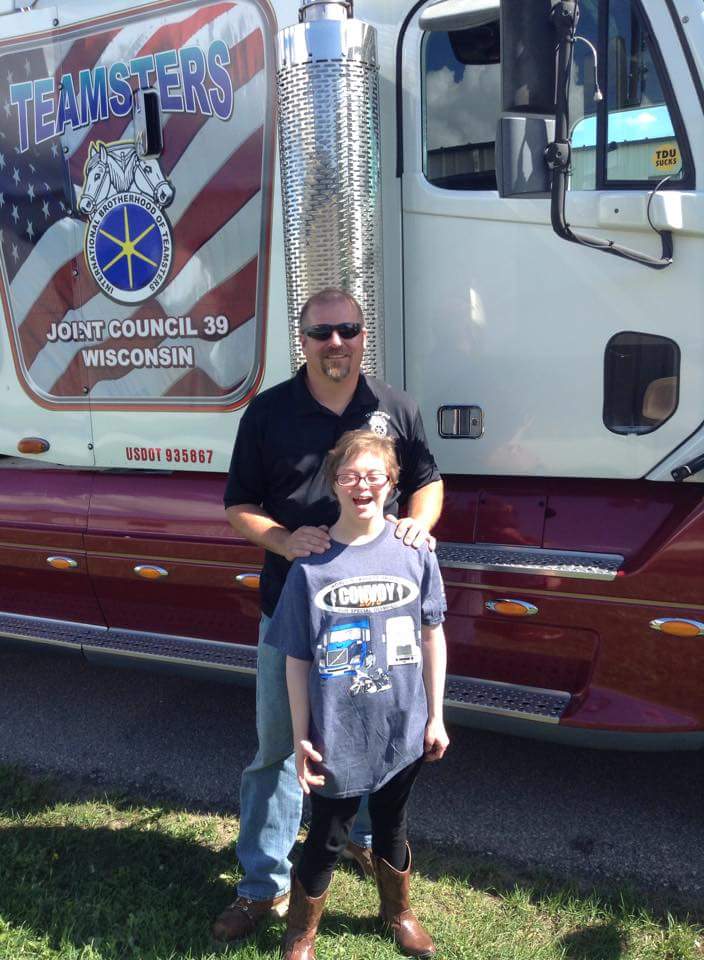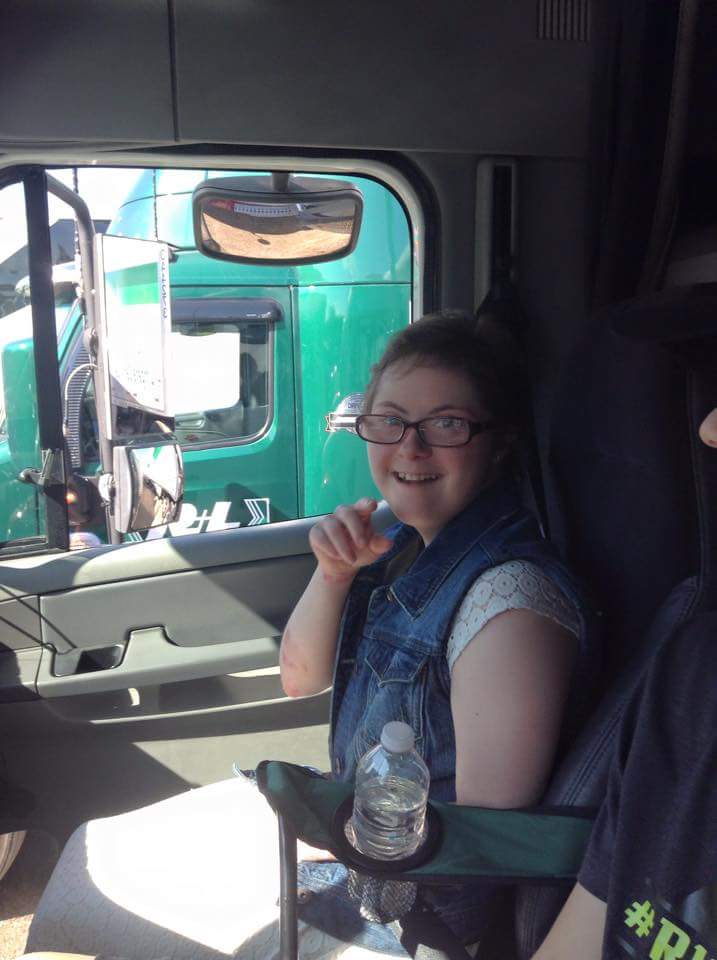 On Saturday September 17, 2016, Local 200 for our 2nd year in a row participated in the Wisconsin Special Olympics event at the Pioneer Travel Plaza. This event is part of the World's Largest Truck Convoy that takes place in 13 states and four Canadian Provinces that raises monies for the athletes to compete in the Special Olympics events here in Wisconsin and throughout North America. The Wisconsin event this year had over 200 trucks start their day at the Pioneer Plaza in Richfield, Wisconsin and end at the EAA grounds in Oshkosh, Wisconsin where a recognition event for the athletes and the participates of the convoy took place.
Piloting the Wisconsin Teamsters Joint Council 39 semi was Jared Wolski. Jared is a Union Steward at USF Holland at our Oak Creek location and currently is working on the nationwide XPO Organizing effort with the International Brotherhood of Teamsters from our Milwaukee office location. Co-Piloting the semi with Jared was Allyssa Thiel. Allyssa was instrumental in providing Brother Wolski with clear driving instructions during their time together. We thank Allyssa for her leadership and guidance to make sure our day was safe for all involved.
Local 200 looks forward to the 2017 event for the Special Olympics. A number of other Teamsters and Teamster Locals were part of the Convoy here in Wisconsin and across this country and Canada. The Wisconsin Convoy marked its 12th year and just surpassed the $1 million level in raising funds for the athletes. The Local looks to be part of this cause for years to come.
TEAMSTERS DAIRY CONFERENCE
ROME ALOISE
IBT Vice President, Dairy Director,
STEVE VERMA
IBT Vice President,
Warehouse Division Director
JEFF FARMER
IBT Organizing director
Union Contractor Dahlman Construction gets Pharmacy repair underway

Work repairing the foundation on the members building commenced MondayAugust 23rd and should be completed in approximately 5 weeks
Teamsters Local 200 Golf Scholarship winner Stephanie Duewel is pictured here receiving her $1000 scholarship from Teamsters Local 200 Retiree & Scholarship Golf Outing Director Tony Ceretto.
Stephanie is the daughter of Paul & Mary Lisa Duewel. Paul is a Local 200 member employed at Brenntag.
Congratulations and good luck to Stephanie who will be doing her studies at the University of Wisconsin - LaCrosse in the medical field.
Teamsters Local 200 Golf Scholarship winner Brooklyn Henning.
Pictured here receiving her $1000 scholarship from Teamsters Local 200 Secretary Treasurer Tom Millonzi.
Pictured with Brooklyn left to right
Brooklyn's mom Kim Henning, sister Aspen Henning age 6, sister Madison Henning age 11, Brooklyn, Secretary Treasurer Tom Millonzi, Brooklyn's grandpa Scotty Faltersack.
Scotty is a longtime Teamsters driver and Union Steward at USF Holland.
Congratulations and good luck to Brooklyn who will be doing her studies at the University of Oshkosh in nursing.
PHARMACY BUILDING REPAIR
GETS UNDERWAY
Limited pharmacy parking
during the project
Starting Monday August 22nd there will be limited parking for members and staff of Wisconsin Health Fund as repairs commence to the pharmacy building.
"Union contractor Dahlman Construction has been hired by Teamsters Local 200 to repair some foundation issues on the members building that houses the pharmacy portion of Wisconsin Health Fund," said Local 200 Secretary Treasurer Tom Millonzi.
Please forgive us for any inconvenience this may bring during the repair. The repair is scheduled to take approximately 5 weeks.
"Local 200 Brothers and Sisters working behind the scenes at the 2016 Wisconsin State Fair"
Leafletting event recently at XPO, and FedEx
was attended by active and retirees alike
The XPO organizing effort is happening across the country as each Teamster Local with a location in its jurisdiction is stepping up its efforts to organize in this core industry
RECON TV PILOT FILMS IN MILWAUKEE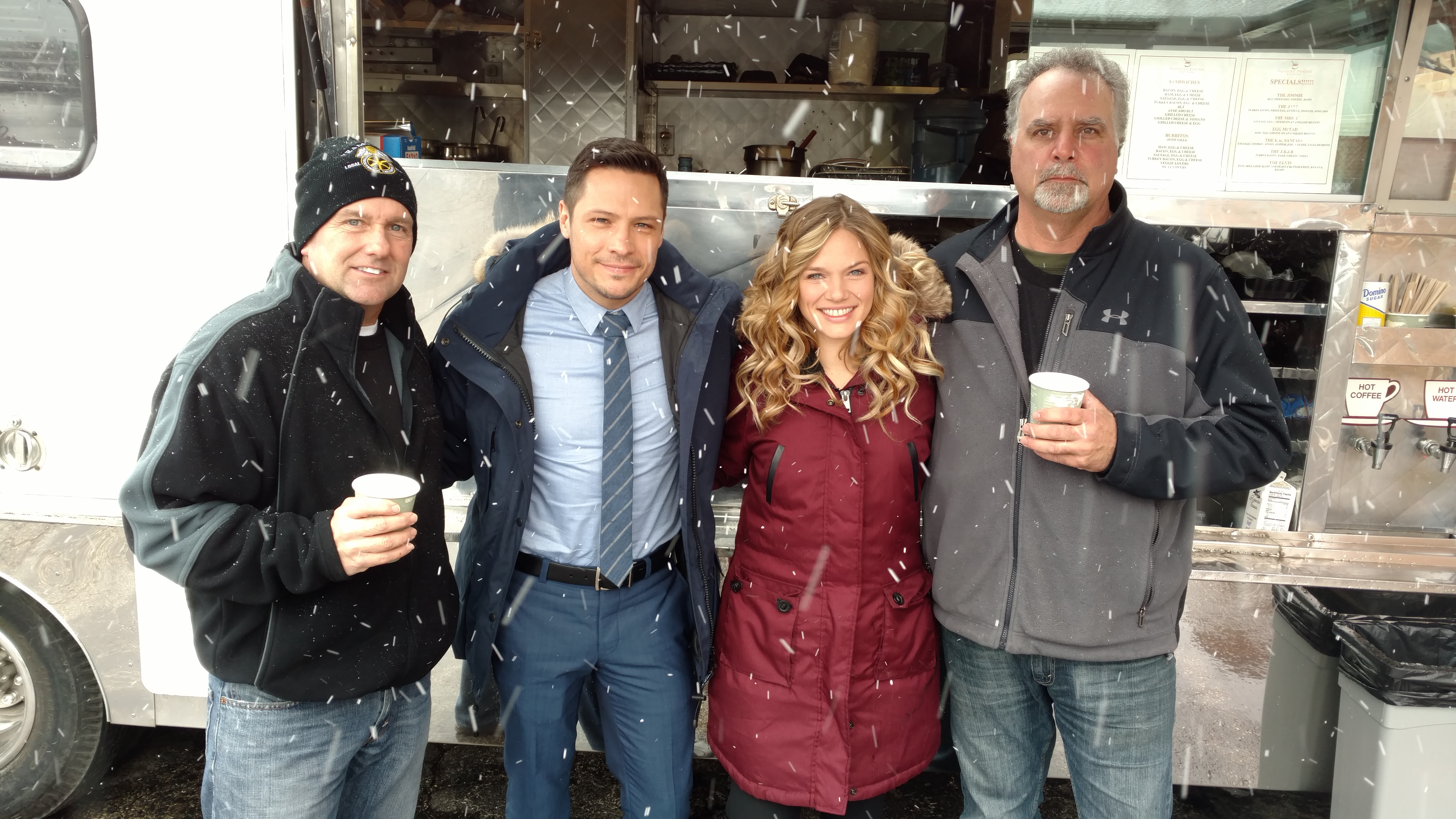 Warner Bros. Television and Fox Studio were in town during the week of March 30th thru April 3rd filming an action television pilot called Recon, for the upcoming television season. The project employed (11)Teamsters from Local 200 to move cast members and equipment vehicles from site to site throughout the filming process, here in Milwaukee.
IBT 29th INTERNATIONAL CONVENTION
Prior to the commencement the 29th International Convention , General Teamsters Local Union No. 200 was informed about a selection of 3 appointments by the IBT to serve as Committee Members. In respect to the process, Secretary Treasurer Tom Millonzi was appointed to the Credentials Committee, President Tom Bennett was appointment to the Political and Legislative Committee and Business Agent Jim Seelow was appointed to the Sergeant at Arms Committee.
The 29th International Convention theme was very intense with the messaging of Global Unity with our sister Unions from abroad. Another message convey at the Convention was the engagement of our membership regarding the upcoming Fall 2016 Political Elections in key states as Wisconsin. Secretary Treasurer Tom Millonzi of Local 200 presented the importance of these Senate and State elections in front of the entire 5000 member delegation on Monday, June 27, 2016 with a powerful message.
Throughout the 5 day Convention, a number of Resolutions were presented and accepted by the delegation. These resolutions are in the best interest of working families and will have an powerful impact on the future of this great Union The Resolutions are attached for your review.
The Teamster Unity within the 5 day event was ever so present on key issues to strengthen our great Union. The Delegation worked tirelessly to enhance our position as the Teamster Union on a number of matters such as to name just a few, TMAP (Teamsters Military Assistance Program) to train Military Personal while under active service for careers within our Teamster Worksites to the epidemic of the nationwide drug addiction facing our Teamster families. The Teamster Delegation raised over $1.4 million dollars through pledges from Joint Councils, Locals and the members across this country for an non-profit organization for the work needed to end the stigma around addiction and to stop this epidemic.
The awareness discussion of Pension issues was presented by the IBT Pension Committee Co-Chairs of Brewery and Soft Drink Workers Conference Division Director Dave Laughton and IBT International Vice President John Murphy. Their message to the delegation was about the awareness of difficulties facing the Funds and the Participates of a number of Pension Funds across this nation. Local 200 Retiree Bob Amdsen spoke to the 5000 member delegation of the combined efforts of the International Brotherhood of Teamsters and start up Retiree Committees across this nation.
General Teamsters Local Union No. 200 had a very strong presence amongst the delegation at the 29th International Convention. Our Local Union had solid representation from a number Local Union Officers, Agents and Stewards at the IBT Divisional Meetings such as Waste, Freight, Warehouse, XPO Organizing and others throughout the 5 day event.
CLICK HERE FOR THE ENTIRE
RESOLUTIONS COMMITTEE REPORT
Local 200 Make - A - Wish Donation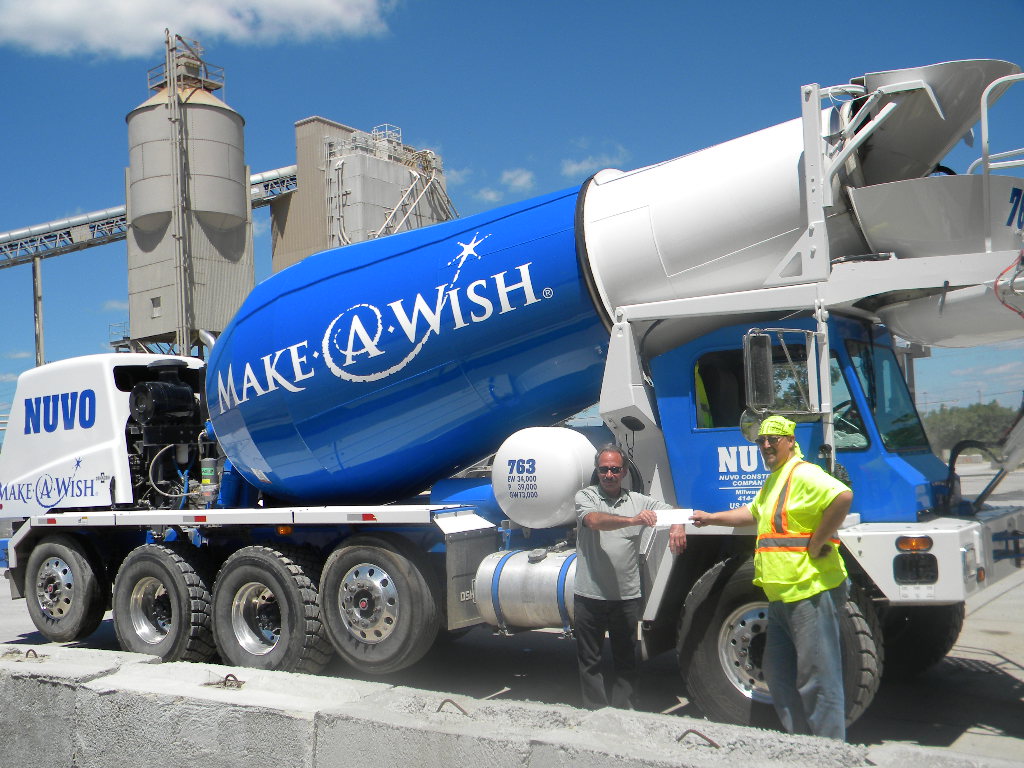 Nuvo Construction has added another theme truck to their fleet. The Make-A-Wish Foundation truck follows the Breast Cancer Awareness truck and the earlier NASCAR theme trucks to their fleet. Picture above is longtime steward Mike Stockton, along with Local 200 Business Rep. and Joint Council 39 State Construction Director Mike Gurich. Representative Gurich is presenting a check to the Make - A – Wish foundation on behalf of
Teamsters Local 200.
LOVE YOUR KIDNEYS MKE WALK //RUN
Teamsters Local 200 participates in fund raising event in Greendale
Teamsters participated and donated to the National Kidney Foundation in a charity walk / run event held recently at
Whitnall Park in Greendale.
"This is the first time L200 participated in this event," said Secretary Treasurer Tom Millonzi. "It is truly a good cause."
L200 Business Representatives Jim Seelow and Tom Benvenuto were also in attendance to support the cause. Jim's wife Yolanda is herself a kidney transplant recipient and walked the course with all in attendance.
Pictured above left to right.
Matthew Seelow, Jim Seelow, Donna Benvenuto, Yolanda Seelow, Tom Benvenuto, Tom Millonzi
First Student Mechanics Vote Teamsters
Milwaukee Wisconsin
On Friday, April 22, 2016 a mechanics group employed at the Milwaukee, WI north yard voted to become members of General Teamsters Local Union No. 200.
Present from the local for the vote were Secretary Treasurer Tom Millonzi, President Tom Bennett, Agent Randy Monroe and Agent Tom Benvenuto.
The Local Union was contacted by Darron Hill who has been at First Student Inc. since 2008. Brother Hill stated that he and his fellow mechanics felt they needed to bring a Union into their workplace and wanted the Teamsters.
The vote was a three to one victory for representation at First Student. The group was involved with a campaign a few years ago that involved the drivers from the north yard, as well as the south yard here in Milwaukee.
Darron stated on the day of the vote,
"It was a great relief to finally get a chance to vote for the Union and I am very proud to be able to say that I am a Teamster."
We here at Local 200 are happy to welcome Darron and his brother and sister mechanics into the Teamsters family and we look forward to working with them for their first contract.
In Solidarity,
LOCAL 200 AND JOINT COUNCIL 39 ATTEND 4TH ANNUAL PIPELINE CONFERENCE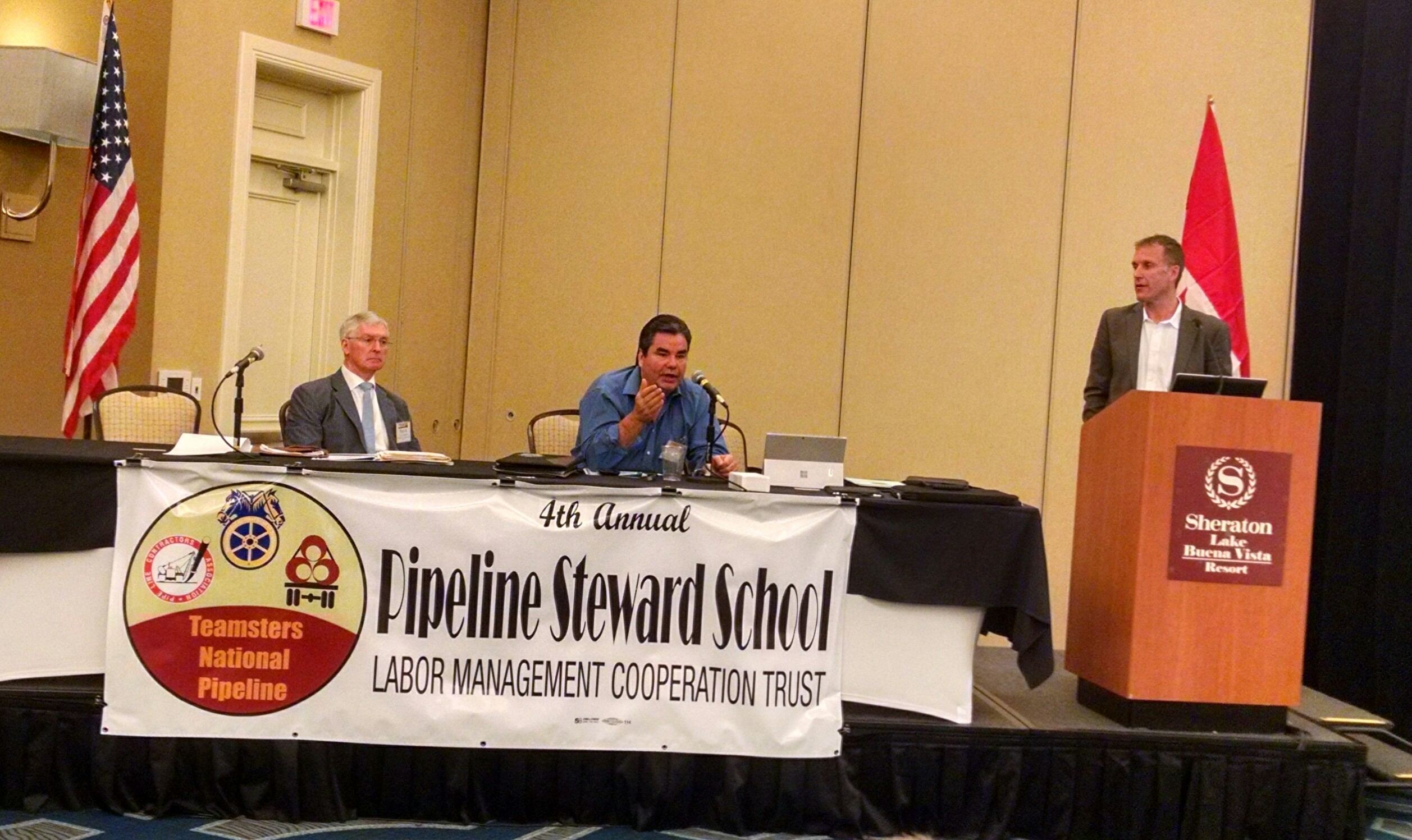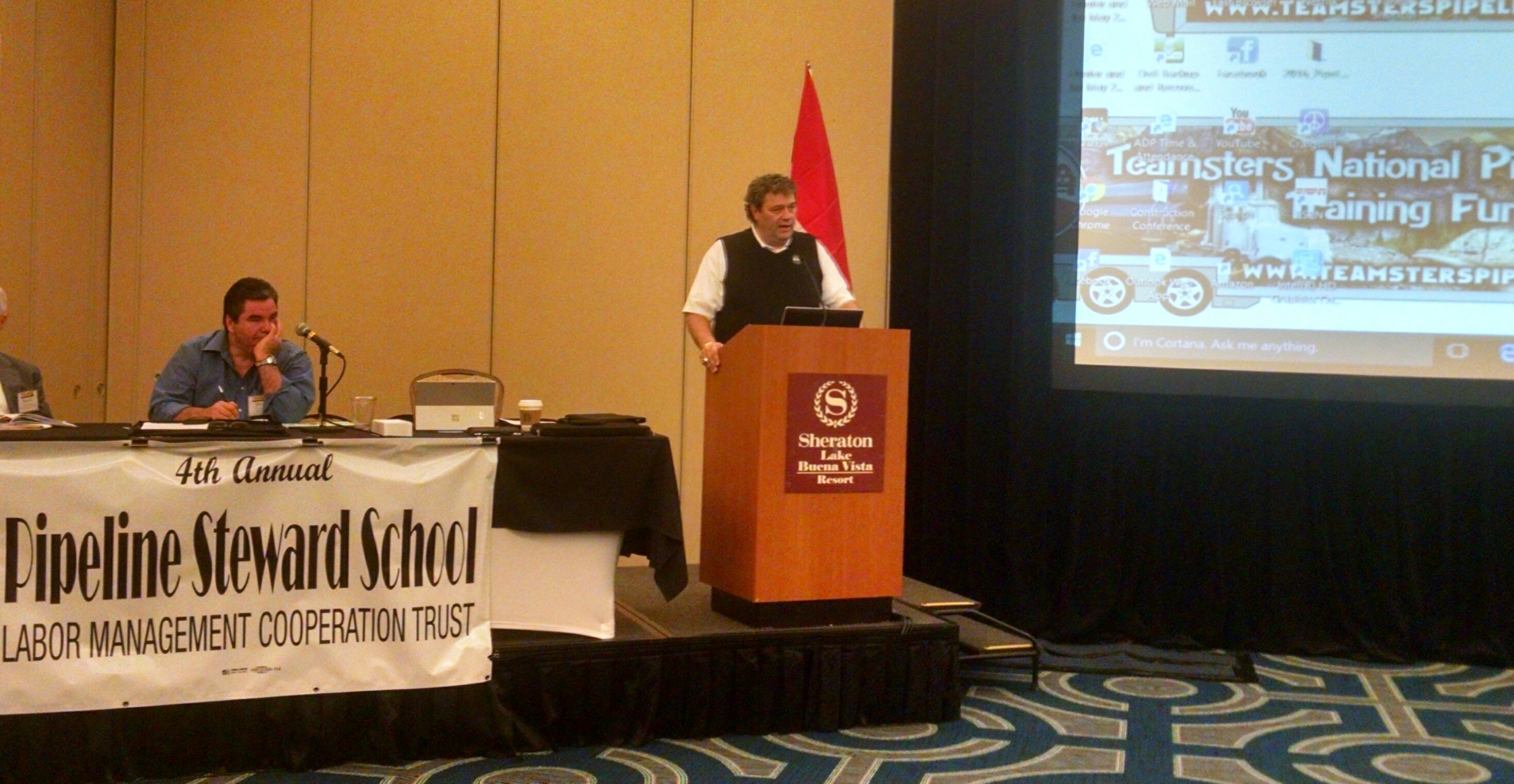 L200 Secretary Treasurer Tom Millonzi and Wisconsin Teamsters Joint Council 39 State Construction Director Mike Gurich attended the 4th Annual Conference recently held.
" This conference drew 250 agents, officers and stewards from all over the country as the Teamsters look to build on their presence in the pipeline industry," said Secretary Treasurer Millonzi. " Wisconsin is in the cross hairs of some of this work and we want Teamsters on these projects expanding and repairing these lines," added Millonzi.
Pictured is the IBT Teamster National Pipeline Director David LaBorde (seated in the blue shirt) addressing the attendees. Pictured as well at the podium (in black vest) is Bubba Davis, IBT Building Material and Construction Director.
The Teamsters Pipeline Division has 3,000 members in its division and is currently the fastest growing division in the Teamsters.
BUILDING A BETTER WISCONSIN EXPO
This event was held in Milwaukee to give students a "hands-on" experience as to what the Building Trades have to offer as an option to college.
The TEAMSTERS NATIONAL PIPELINE TRAINING display was also in attendance.
City of Milwaukee ODW Drivers Meet
At Teamsters Local 200
Thursday January 28th ODW Drivers gathered to fill out
application for membership into Teamsters Local 200.
"We look forward to having this group of 330 hard working men and woman join Local 200, and we look forward to representing them" said Mike Gurich Business Representative at Teamsters Local 200.
City of Milwaukee Drivers fall under the ACT 10 Public Employees provision and will have to recertify their Union membership each year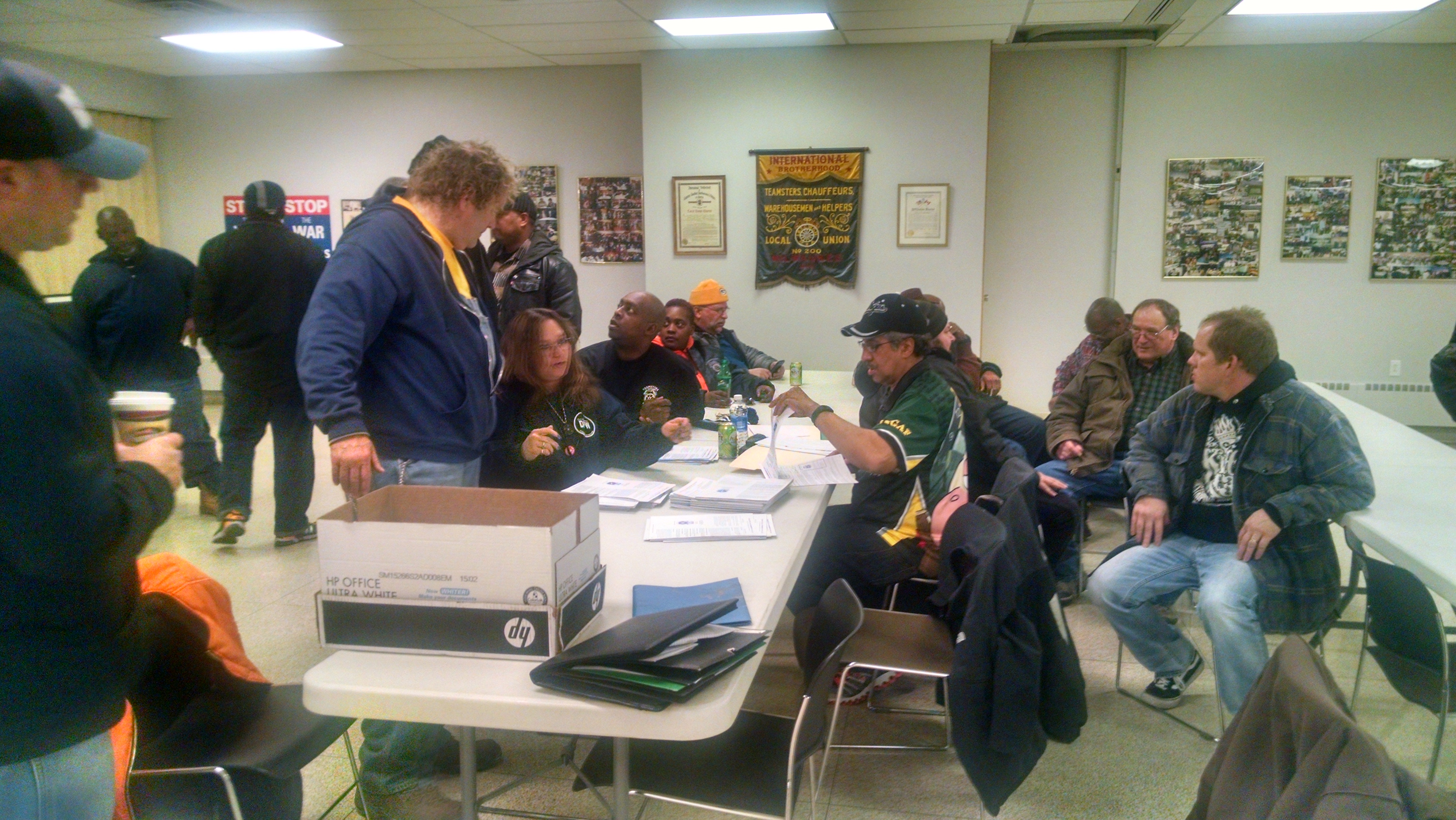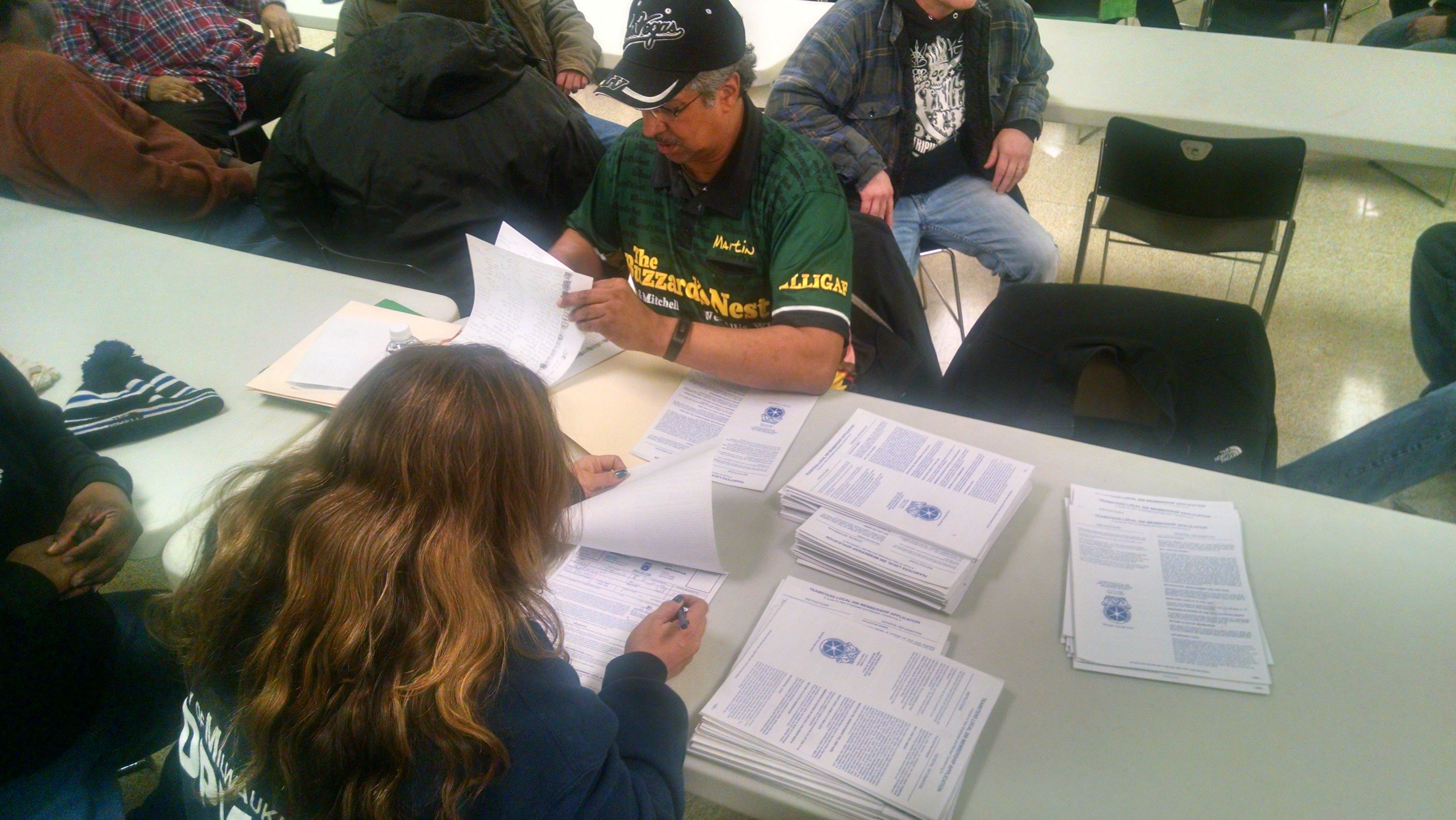 FOR YOUR INFORMATION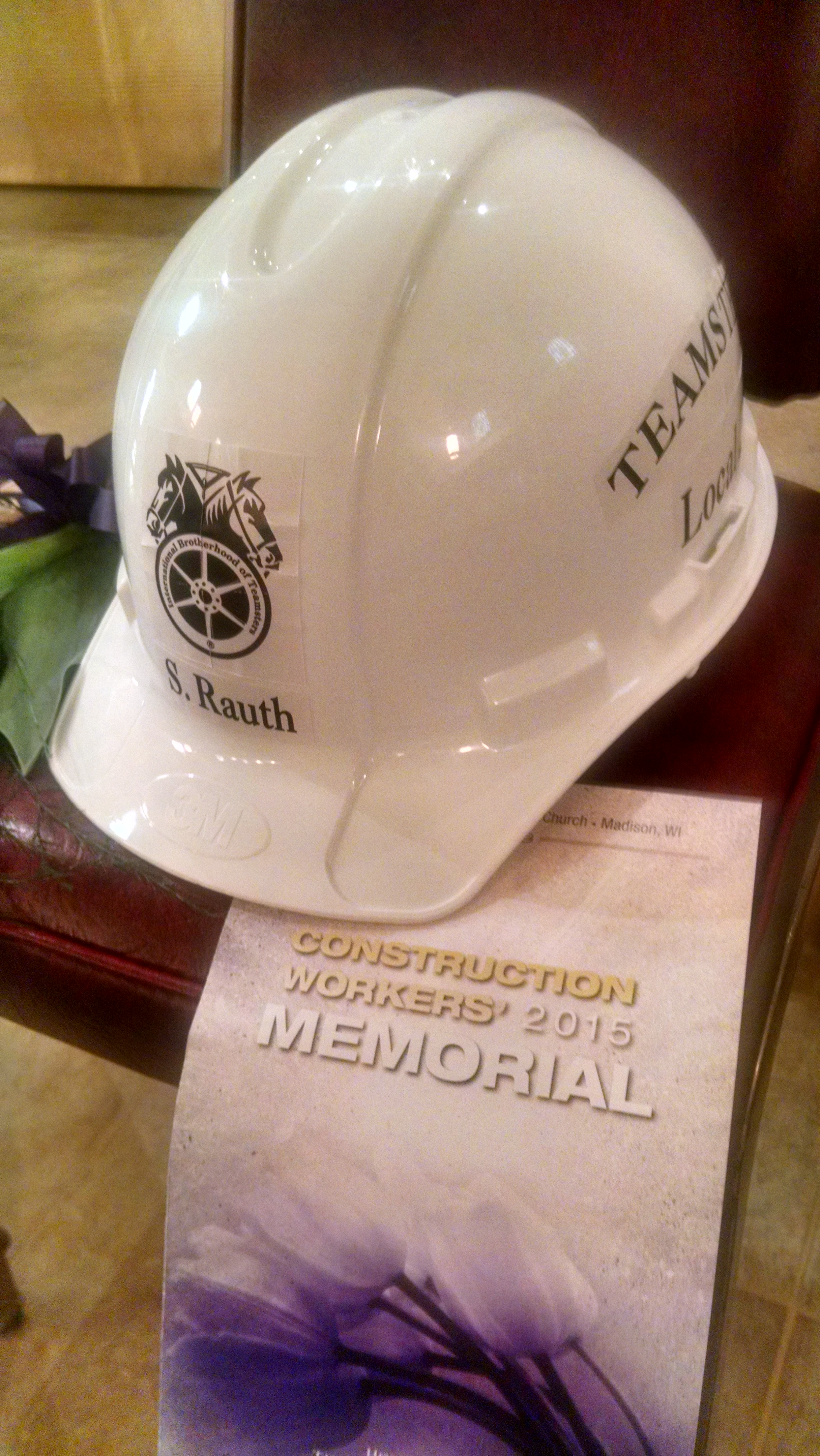 Worker's Memorial Day, Tuesday, April 28, 2015 was a day to reflect on those workers who lost their lives while in the performance of their job related duties. As we take our daily events for granted, we should always be aware that an unforeseen act can change the lives of many without notice and within a matter of seconds.
Such a tragic event did happen to a member of Teamsters Local 200. Stephen Rauth died during his workday in an industrial accident, leaving behind a wife and a young family. Yesterday, Tuesday April 28, 2015, Brother Rauth was honored along with 4 others who were recognized in a Hard Hat Procession through the streets of Madison, Wisconsin, which ended at St. Patrick's Church. The procession led by accompanying sounds of Bagpipes and the sounds of Trades members marching, ended with a beautiful presentation which included General Intercessions from members of the Trades at St. Patrick's.
Teamsters Local 200 President Tom Bennett offered a reading in the General Intercessions in respect to Brother Rauth and his Family.
Local 200 Secretary Treasurer Tom Millonzi and Local 200 President Tom Bennett recently visited the Teamster International headquarters in Washington DC to meet and confer with IBT representatives Cindy Impala, director of Training and Development for the IBT, and Brian Tierney from the communications department.
"In an effort to bring continued education to the members of this local about right to work, President Tom Bennett and myself are reaching out to our International. Cindy and Brian were very knowledgeable and will be working with Local 200 in our effort," said Secretary Treasurer Millonzi.
Pictured are Secretary Treasurer Tom Millonzi and President Tom Bennett in the front lobby of the IBT headquarters in Washington DC
IMPORTANT UPDATES
SOLDON LAW FIRM, LLC.
ATTORNEYS AT LAW
Presents
Right To Work
Discussion
---
| | |
| --- | --- |
| What's New at Teamsters 200 | |
MAKE SURE WE HAVE YOUR
CURRENT E-MAIL ADDRESS
Make sure that you do not get missed when the Local sends important information to it's members and retirees.
Keep your information updated with the Local. If you have moved or changed addresses within the past 6 months, please contact the Local to request that your contact information be brought up-to-date.
You can message the office staff through the Local 200 website (go to the "Contact Us" page listed above), Facebook or call at 414-771-6363.
This request is for all members active and retired.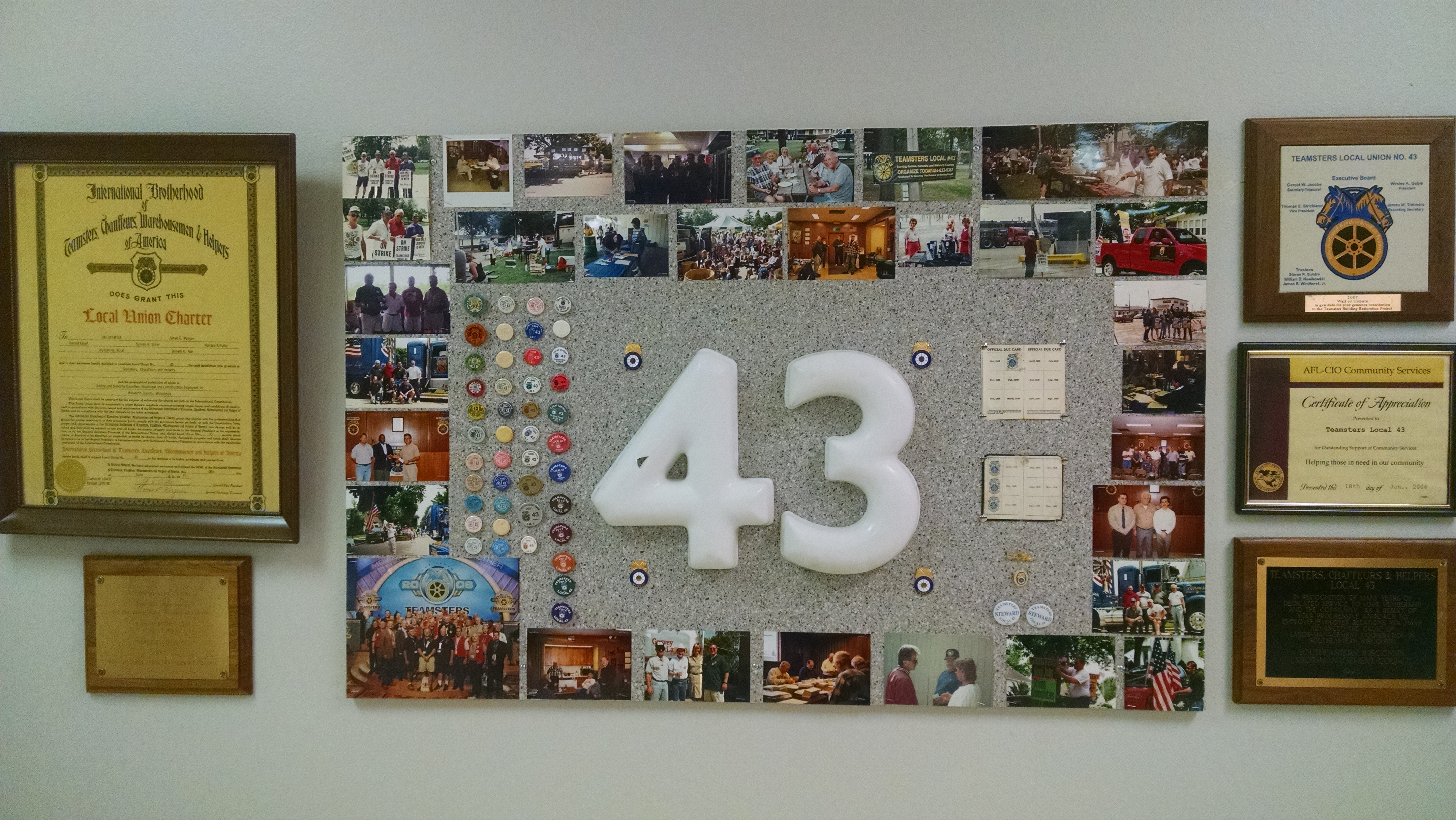 Teamsters Local 43 Remembered Post Merger
Dedicated to these members formerly from Local 43 is a shrine memorializing their Local in their Union hall in the Milwaukee location.
"Where we came from and how we got here helps move us forward," said Teamsters Local 200 Secretary Treasurer Tom Millonzi.
"We put together this shrine so when our new members from Racine and Kenosha come to their Union hall they will see and know that we remember. Remembering how we got here strengthens our solidarity," added Millonzi.
Separate seniority list for regular fulltime dock workers includes
health insurance and pension contributions
On Saturday July 12th and Tuesday July 15th Teamster Local 200 members working at Standard Forwarding overwhelmingly endorsed a dock only seniority list for workers at three facilities in Wisconsin.
"This agreement will give our members heightened protection from subcontracting, and the company help with the ever growing driver shortage nationally," said Teamsters Local 200 Secretary Treasurer Tom Millonzi.
With the help of the International Brotherhood of Teamsters National Freight Division, an agreement was forged and agreed upon by both the Union and the company to give added protection to current drivers at Standard Forwarding.
"Thanks to Assistant National Freight Director Gordon Sweeten for his help in this important issue for curtailing the use of subcontracting and getting more Teamster Drivers at Standard Forwarding," added Local 200 Business Representative Jim Seelow.
Local 200 would like to thank all the Standard Forwarding Teamsters that took part in the vote.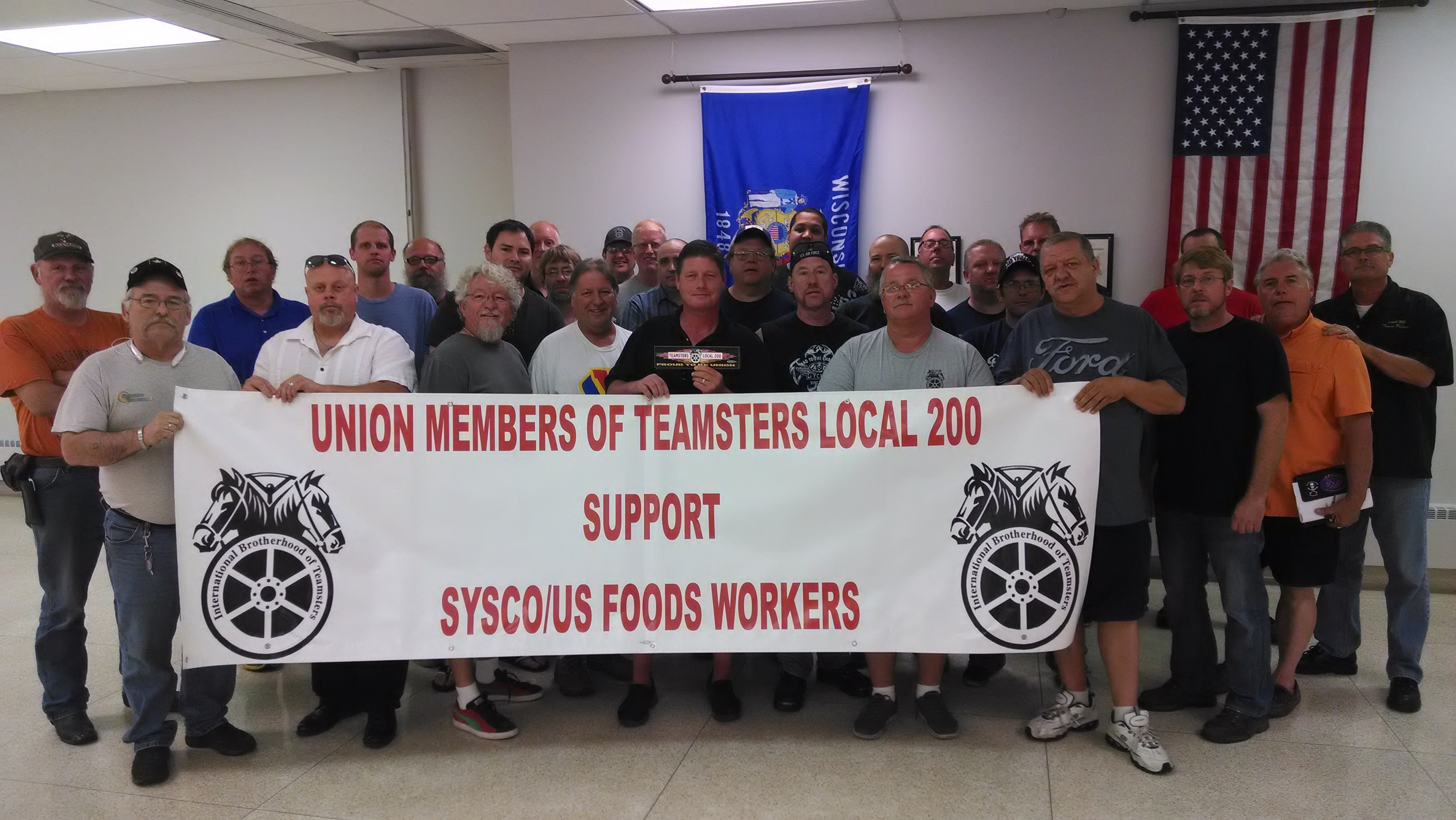 STANDARD FORWARDING LOCAL 200 MEMBERS TAKE TIME OUT OF THEIR RECENT MEETING TO SHOW THEIR SUPPORT FOR THE US FOODS LOCAL 200 TEAMSTERS
---
TEAMSTER LOCAL 43 MEMBERS
VOTE YES TO MERGE
Members of Local 43 overwhelmingly give nod to merge
Saturday June 21, 2014, Teamsters Local 43 members gave their approval to merge with Local 200.
"The message was very clear, the members of Local 43 are in favor of the merge," said Local 200 Secretary Treasurer Tom Millonzi.
Pictured in the accompanying photos during the vote count are; Local 43 office staffer Cindi Vance-Smith, Teamsters Local 43 Secretary Treasurer Wes Gable, Local 200 President Tom Bennett, and Local 200 Secretary Treasurer Tom Millonzi.
Teamsters Local 43 and Local 200 have been in talks about a merger for some time and the membership approval was the next step in the process.
"Now the process moves to the International Brotherhood of Teamsters General Secretary Treasurer Ken Hall's desk where we will await his stamp of approval," said Local 200 President Tom Bennett.
Thanks to all the members of Teamsters Local 43 that participated in the merger vote process.
Local 43's jurisdiction includes the Racine and Kenosha areas, all the way to the Illinois border.
---
---